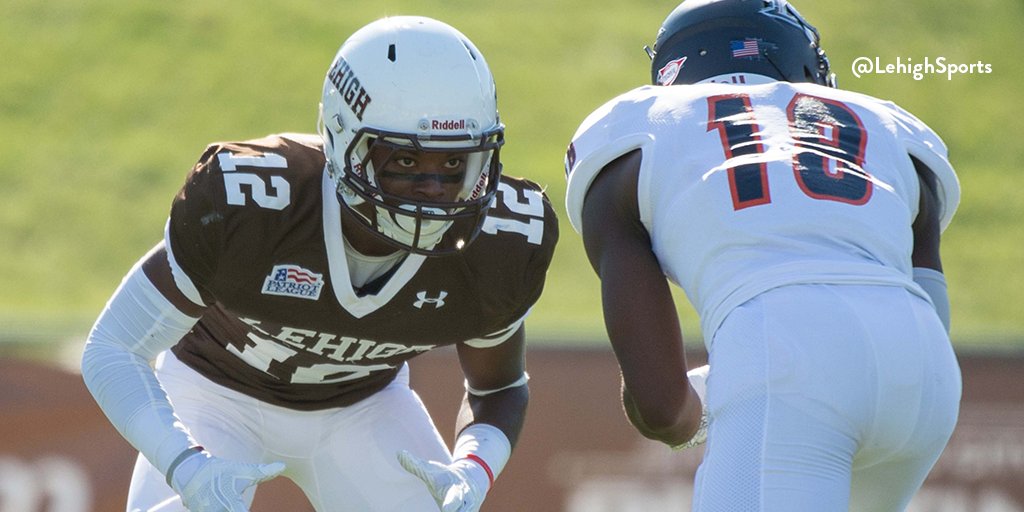 Last season, a disappointed
LB Colton Caslow
talked about the Lehigh defense after a top 26-21 loss to nationally-ranked Villanova.
Caslow,
LB Pierce Ripanti
and
LB Evan Harvey
had combined for 27 tackles against the Wildcats, but it wasn't enough to spring the upset.
"None of those plays I made would have been possible if I didn't have the fantastic teammates I have around me out there," he
said after the game
. "Everyone's just been flying around, we're getting all eleven players to the ball, everyone has a lot higher energy out there, and we're in a lot better shape than we were last year."
Caslow's disappointment would be the last time he'd experience that emotion after a regular-season football game, as Lehigh then proceeded to win their next nine games and the Patriot League championship. Caslow, and the defense, never averted their focus and improvement from that point forward.
This weekend at the Brown/White spring scrimmage, we will see what the 2017 Lehigh defense will look like, but the emphasis on being in great shape and getting all eleven players to the ball will almost certainly remain.
The biggest question mark on the defensive side, though, remains which athletes will step up to replace Caslow, Ripanti, Harvey,
ROV Laquan Lambert
and
CB Brandon Leaks -
and which existing players will step into the leadership positions that these seniors had as well.
5th Yr Sr. Jimmy Mitchell
This February, Lehigh football fans got some excellent news: that senior NG Jimmy Mitchell was going to return to the Mountain Hawks as a 5th year senior.
In Lehigh's upcoming style of 4-2-5 defense, the position of nose guard is as critical as it is unsung, and Mitchell's steady 6'2 275 lb presence in the middle should make the defensive line an area of strength.
Tweaking the 3-3-5 of last year, it looks like new defensive coordinator Craig Sutyak will be playing to the strength and experience of Lehigh's down linemen.
The core of Mountain Hawks' defensive front, Mitchell, senior DT Tyler Cavenas, senior DE Harrison Johnson, combined for 10 sacks last season and are poised for an even bigger season next year.
One thing I'll be looking at this weekend is the competition for the other top two-deep defensive end spot between sophomore DE Jake Weir and junior DE Harrison Kauffman. Also, I'll
LFN's Projected Two Deep (unofficial)
DE1: Harrison Johnson (Sr.), DT1: Tyler Cavenas (Sr.), NG1: Jimmy Mitchell (5th) DE1: Jake Weir (So.)
DE2: Harrison Kauffman (Jr.), DT2: Colin Nace (So.) NG2: Julian Lynn (Jr.) DE2: Juwon Morrow (Jr.)
Linebackers/Rover
Jr. LB Mark Walker
Last season Lehigh had senior experience at these positions, but this spring has seen a spirited competition as to who might emerge as the contenders to top the depth chart. The shoes of Caslow, Ripanti, Harvey and ROV Laquan Lambert will not be easy to fill.
Fortunately, Lehigh has more returning experience at this position than one might expect.
The local favorite, Whitehall's junior LB Jake Buskirk, is in the mix, and two more juniors, junior LB Mark Walker and junior LB Matt Butler, also will be in play.
Walker, who had 19 tackles and 3 1/2 tackles for loss last season and filled in for an injured Caslow in the offense, would seem to have the upper hand, but this weekend's game will be interesting to see which linebackers will be on the top line. My guess is Butler and Walker, but don't be surprised if Buskirk is there in either spot instead.
Another interesting aspect is how the fifth linebacker/defensive back hybrid, the "rover", plays into the Mountain Hawk formation this weekend, as Butler and Walker could slide right into the "rover" role if necessary, too. In the spring prospectus, junior ROV Mike Gies, who played safety last season and shined, is listed as "first crack" at starting rover, but a strong spring by Walker, Butler, sophomore ROV Keith Woetzel or sophomore ROV Alex Duke might see them starting there as well.
It seems likely that these areas won't be settled this spring, but it will be interesting who emerges on top this spring, and thus on top when August rolls around.
LFN's Projected Two Deep (unofficial)
LB1: Mark Walker (Jr.), LB1: Matt Butler (Jr.), ROV1: Mike Gies (Jr.)
LB2: Jake Buskirk (Jr.), LB2: Brian Olshanski (Jr.) ROV2: Keith Woetzel(So.)/Jon Seighman (So.)


Defensive Backs
Lehigh waves goodbye to CB Brandon Leaks in the starting secondary, but return three starters that were a huge part in the Mountain Hawks' defensive turnaround last season.
CB Quentin Jones (Allison LaBeau/B+W)
The biggest story involving the secondary might be a guy who is practicing, but not in full-contact drills as of yet.
Jones has returned to Lehigh for the spring semester with a full academic load of classes and a calendar packed with workouts, film sessions and practices with the Lehigh football team.
"At first, I was a little bit scared about coming back," Jones said, "but never was there a time where I didn't want to ever play again."
The Yale doctors were cautionary about Jones returning to playing Division I football. The doctors all agreed it was important Jones play without full pads until he was 100 percent healthy and most importantly, confident.
With the important caveat that QJ's health is first and foremost, it's exciting to contemplate a starting secondary with him,
junior SS Sam McCloskey, junior CB Donavon Harris
and
sophomore FS Riley O'Neil
all in at the same time.
McCloskey, a two-year letter winner, had 54 tackles last year and nabbed 3 interceptions, not to mention forcing a critical second half fumble in the win vs. Colgate. O'Neil added 44 tackles and two picks, while Harris, who stepped in after QJ was hurt, was stellar, intercepting a pass in the end zone in the Mountain Hawks' championship-clinching win over Bucknell.
In QJs absence, this weekend's Spring game will see a chance for
sophomore CB Marquis Wilson
and
junior CB Kareem Montgomery
to step in and see what they can do against the Mountain Hawks' formidable receivers. That's another area that I'll be watching.
There's also the conversion of a former running back,
junior S Nick Thevaganayam
, to safety, which I'll be watching as well.
LFN's Projected Two Deep (unofficial)
CB1: Kareem Montgomery (Jr.), FS1: Riley O'Neil (So.), SS1: Sam McCloskey (Jr.), CB1: Donavon Harris (Jr.)
CB2: Marquis Wilson (So.), FS2: Nick Thevaganayam (Jr.), SS2: Devan Polanis (Jr.), CB2: Alex Duke (So.)