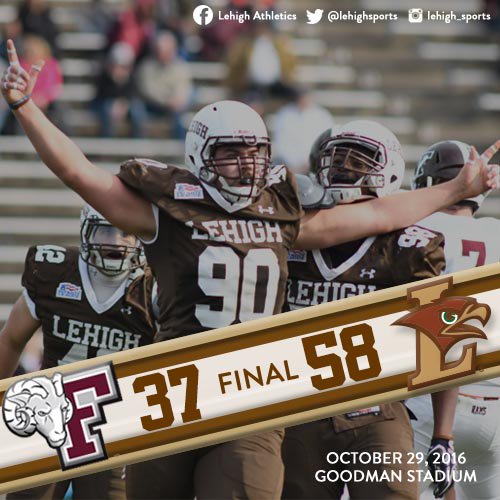 It was supposed to be
RB Chase Edmonds
' day.
The questions around Lehigh, as ever, surrounded the defense. Would they be able to slow down Edmonds? Would he score two touchdowns, or three? Would they hold the almost-certain-NFL-player to only 200 yards?
In all the talk about Edmonds, people forgot about two pretty good runners on the Lehigh side:
senior QB Nick Shafnisky
and
sophomore RB Dominick Bragalone
.
Bragalone, for the second straight week, had another amazing game, getting 192 yards rushing, zero negative rushes, and 3 touchdowns. Shafnisky ran for 112 yards and added 3 touchdowns of his own.
It would be a game where Lehigh would not need to punt - the first game since Bucknell in 1999 where that was the case. That's because they ran over Fordham, 58-37, going up at one point 51-9 before giving up a bunch of late scores.
Next week Lehigh will host Bucknell for the right to clinch an FCS playoff shot, and the chance to do no worse than tie for the Patriot League championship.
Edmonds did flash plenty of moves on the field of Murray Goodman Stadium that showed the more than 2,000 fans in attendance that he is a special running back.
But he didn't score any touchdowns, nor did he outgain Dominick Bragalone.
Bragalone ended with 192 yards rushing, with three of his fifteen rushes ending in the end zone. Edmonds would end with 188 yards rushing, and wouldn't find the end zone once.
The back-breaker might have been a 70 yard run down the right side close to the end of the first half. Bragalone, finding a huge hole, went right through and no Fordham defender could catch him, which put Lehigh up 37-9 at halftime.
Shafnisky only had 18 attempts passing, but one was an electrifying pass to
senior WR Derek Knott
that went 84 yards, where Knott just got behind the coverage and grabbed the perfect pass and outran the coverage.
Defensively, too, the first-string defense dominated Edmonds and the Fordham offense, holding them to 9 points until the final quarter.
Junior DE Tyler Cavenas
had 3 sacks, including one to close the half and another to turn over of ball over downs, and was very close to getting a fourth sack, credited to
senior NG Jimmy Mitchell
.
And a huge turnover, an Edmonds fumble, was recovered by
sophomore CB Donavon Harris
, and contributed to a scoring outburst that made a 16-9 game into a 30-9 game in the span of about ten minutes.
Check in later for a more complete recap of the game.