Princeton At Lehigh Game Breakdown And Fearless Prediction: Can Lehigh Stop the Tigers Running Game?
We break down the Princeton game - and we give our fearless prediction, below the flip.
Something of note this week that I forgot to mention in my
Narrative Street
and my
Game Preview
is the fact that the two opponents that Lehigh lost to earlier in the year, Monmouth and Villanova, are doing extremely well. Both teams' only losses have come to FBS programs, and both schools acquitted themselves very well in both circumstances.
2-1 Monmouth was never out of the game vs. Kent State, falling 27-7 to the Golden Flashes in a game after Kent State was stunned by fellow FCS member North Carolina A&T in four overtimes, 39-36. The Hawks largely kept Kent State's offense in check and kept them in the game, and their star defensive player,
DB Mike Basile
, had an eye-popping 16 tackles and a blocked kick.
If Monmouth can upset heavily-favored and nationally-ranked Charleston Southern this weekend in their home opener, the Hawks would go to 3-1 and would most likely get strong consideration in many peoples' Top 25 votes. It would also make Lehigh's loss to them to start the season sting a little less.
Nationally-ranked Villanova, also 2-1, lost their season opener to Pitt, most notably holding the Panthers to a lower point total on defense (28) than both Penn State (42) and Oklahoma State (38). After their win over Lehigh, the Wildcats impressively dispatched Towson 40-21 at home to maintain their No. 19 ranking nationally.
Villanova will be facing off against Lafayette in Easton this weekend, their first trip there in more than 90 years, and seem like prohibitive favorites to win there Saturday night. If they do, Lehigh's "schedule strength" won't be harmed very much by their presence on the schedule.
Breaking Down Princeton
Offense
If there's one calling card of head coach
Bob Surace
and offensive coordinator
James Perry
's offense at Princeton, it's "up-tempo".
Like many teams Lehigh has been facing, the pace of the offense is breakneck, trying to maximize the number of offensive possessions.
Princeton QB Chad Kanoff
"That's the basis of our whole offense, so I think I have to do a better job of doing that,"
senior QB Chad Kanoff
said about the "pace offense" of Princeton earlier in the season
. "That's a point of emphasis. One-hundred percent that's my job. That's the biggest job a quarterback has in a tempo offense is that it's kind of on you to say it through your cadence. (Offensive coordinator James) Perry has been talking about how to use your voice and demeanor to emphasize how fast you need to be going."
Princeton opponents also need to gear up for a bit of trickery, as they sometimes line up two, or in at least one occasion three quarterbacks in offensive formations.
At times, they've been too clever by half, though.
Several times in the Lehigh game last year, Princeton unveiled the two-quarterbacks-on-the-field lineup, but in one case, it backfired: the lateral from one to another was sniffed out by
CB Olivier Rigaud
, where he forced a fumble, picked it up, and returned it for a touchdown.
Princeton QB John Lovett
"Offensively, it's still the same stuff that drives defensive staffs crazy because you gotta deal with a multitude of things," Coen
told Greg Joyce of Lehigh Valley Live.
"At the end of the day, they always settle in on something standard. ... With what they do, I don't think they can really change things year-to-year or week-to-week. It's window dressing for a lot of different things. What you need to find out is what are their nuts and bolts going to be? And then you gotta defend that."
The two QBs Lehigh will be facing this time around are Kanoff and
junior QB John Lovett
, and both bring different skill sets to the table.
Kanoff is not immobile - he can rush the ball - but he's known more as a pocket passer with an accurate arm. Last week vs. Lafayette, though, he went 15 for 29 for only 160 yards passing and an interception. Lovett is described as a "jack of all trades" QB, but he's utilized quite a bit for his athleticism: against Lafayette, he threw the ball three times, ran it himself nine times, and caught the ball four times on short yardage plays.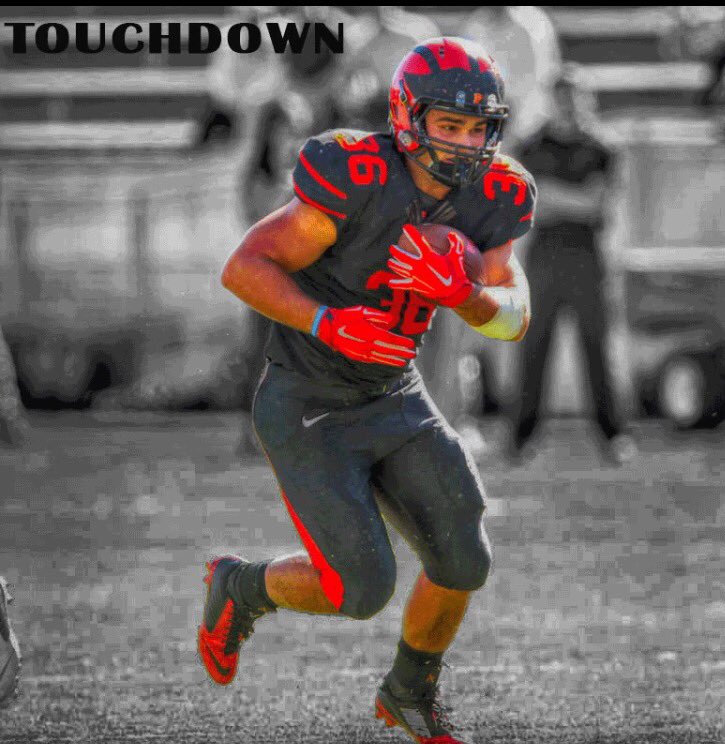 Rhatigan Did A Lot Of This Last Weekend
The most impressive athlete for Princeton on offense last week was definitely
senior RB Joe Rhatigan
, who ran the ball 22 times for 137 yards and 3 touchdowns last week vs. Lafayette. The speedy back eared all-Ivy League honors last week for his performance, and definitely announced to the rest of Princeton's opponents to watch out for him the rest of the year. Backing him up is more of a power back,
sophomore RB Charlie Volker
, who added 8 carries for 38 yards.
When Princeton needed to go through the air last week and Lovett wasn't the target, Kanoff more often than not looked for 6'3, 210 lb
senior WR Isaiah Barnes
, and found him five times for 102 yards, representing the lion's share of Kanoff's passing yardage last week. Like since-graduated
WR Seth DeValve
last year, Barnes has seamlessly waltzed in as the go-to option in the receiving game.
Senior WR Trevor Osborne
and
senior WR James Frusciante
will get the occasional targets from Kanoff (or Lovett), but it's their blocking downfield that is particularly valued by the Tiger offense. Any of them can emerge, though, as a position of attack at any time, along with
senior TE Scott Carpenter
- some days, they won't be the focus, while on others, they can immediately emerge and come up with a 6 or 7 reception day.
Part of Princeton's sloppy play last week came from some uneven offensive line play, though how much was Lafayette's strong pass rush and how much was Princeton first-game jitters is a matter of debate.
Junior OT Mitchell Sweigart
headlines a unit that gave up 3 sacks last week and 4 tackles for loss overall, but what they lacked in pass protection they made up for in run blocking, carving out 360 yards on the ground overall.
Defense
Princeton runs a base 3-4 that had an uneven game last weekend, yielding a ton of passing yards to the Leopards and allowing Lafayette to stay in the game by not making as many third-down stops as they needed. They did, however, notch two sacks and hurried Lafayette
QB Drew Reed
into two interceptions.
That the front seven would bring such a good pass rush comes as no surprise, as Princeton's defensive line returns three players that had significant playing time in 2015.
DE Kurt Holuba
Junior DE Kurt Holuba
, a 6'4, 270 pound pass rusher, started 2016 strong with 5 tackles and a sack vs. Lafayette. After terrorizing Lehigh last year with six tackles and a sack last year, he was injured in Week 3 and would be lost for the season. You can make a good case that the Tigers were a different team without him - he's a good player.
All three defensive linemen are large and did a fantastic winning the line of scrimmage last weekend vs. Lafayette, holding them to 1.8 average yards per rush. 280 lb
junior NG Henry Schlossberg
and 280 lb
junior DT Ty Desire
are a big part of that statistic.
Equally as worryingly for Lehigh fans, Princeton also boasts an experienced group of linebackers as well. Senior LB R.J. Paige and senior LB Rohan Hylton played against Lehigh last year, and freshly returned from injury senior LB Luke Catarius (13 tackles, 1 sack) looks like he could also be a dominant force on the linebacking unit as well. Senior LB Birk Olsen also is an effective pass rusher as well - with all that defensive firepower, it's easy to see Princeton blitzing early, often and from everywhere.
Williams Wants This Many INTs vs. Lehigh
Lafayette's offensive coordinator obviously saw this fearsome front seven and decided to go with a gameplan to the air early against a secondary that only has one returning starter,
senior FS Dorian Williams
. It was fairly successful for the Leopards, yielding 356 yards through the air, but also yielded two picks, one by Williams and one by
senior CB Markus Phox
, staring in his first game for the Tigers.
Williams is a proven quantity - I think he's got a very good shot at making the NFL - but the other two,
senior CB James Gates
and
senior SS Sam Huffman
, had a tougher go with the Lafayette passing offense on Saturday, though they did do a better job in the second half.
Special Teams
As far back as I can remember Princeton's special team units have been spectacular, and though this year sees a new freshman placekicker, I anticipate this to be the case again this season.
Freshman PK Tavish Rice
was just named Ivy League rookie of the week after nailing 5 extra points versus Lafayette. Rice as a high school player was credited with a 45 yard FG, and undoubtedly has a strong leg, like so many Princeton kickers before him.
Senior P Tyler Roth
had a bunch of important punts against Lafayette, averaging more than 40 yards per punt. It's his 4th year as a starter, and over his career he's averaged 39.7 yards per punt.
On the return units,
senior WR Trevor Osborne
sits atop the depth chart for kickoffs, where he had 67 yards in returns.
Senior WR James Frusciante
is listed as the primary punt returner.
LFN's Keys to the Game
1. Trenches.
If there's a battle I'll be watching very closely on Saturday, it's how Lehigh's offensive line does against Princeton's fearsome blitzing on defense. The Tigers are always strong, fundamental tacklers, and their blitzes could be very disruptive to Lehigh's offense. If Lehigh wins the battle of pass protection and solidifies those rushing lanes for the "Swag Pack" -
sophomore RB Micco Brisker, sophomore RB Dom Bragalone,
and
junior RB Nana Amankwah-Ayeh
, I really like Lehigh's chances at a win.
2. Packing the box.
By far, Princeton's biggest threat on offense was the rushing attack with Joe Rhatigan. It's tempting to spy Rhatigan the entire game with someone like
senior LB Colton Caslow
and stack against the run, and see if Kanoff/Lovett/who's-behind-door-number-three can beat them through the air.
3. Turnover-Free.
The "disaster" that was the 2015 game - Coen's words, not mine - came in large part from a whole lot of turnovers. Forcing turnovers on defense is always welcome, of course, but what's more critical is keeping Lehigh's "giveaways" at zero. Had Lehigh done that last year, many feel, Lehigh would have at worst had a shot at winning the game.
Fearless Prediction
The off-and-on Princeton and Lehigh series is one that has been quite nutty in the last decade or so. It's generally been a matchup of even teams, no matter what the won-loss records are. And this edition of the Princeton/Lehigh game feels like it could be one that boasts a whole lot of offense from both sides.
Lehigh's defense played a very good second half versus Penn, something that Mountain Hawk optimists are looking to as key to the rest of the season. However, the big question is - can Lehigh repeat that performance for four quarters vs. Princeton? Even in an impressive win, the Mountain Hawk defense yielded 6.3 yards per rush to Penn - something that Princeton might be able to exploit much, much better than the Quakers' running back by committee.
A strong defensive performance could be the type of thing that really gets the Lehigh fan train rolling, I think. One half of good, defensive football could be a fluke. A strong, dominating performance for four more quarters could be the start of something special, especially if the offense can continue their dynamic play over the first three games.
It can be done - if there's no hangover from the adrenaline-surged win from last weekend.
Lehigh 32, Princeton 24