Not that long ago, Lehigh football players had to take those dreaded 4 O'Clock exams, an essential, dreaded part of the Lehigh experience.
Today, though the 2015 Lehigh Mountain Hawks are getting areport card of a different sort.
Past the halfway point of the season, it's time to take a step back and see where the Mountain Hawks are, and where they need to go to get back to the top of the Patriot League.
The season, as befitting a young team, has been inconsistent. At times, Lehigh has looked like a team that could possibly win the Patriot League title. At other times, though, they haven't.
Fortunately for all Lehigh fans, the Mountain Hawks last game, a
gritty 21-10 win over Bucknell
, was the equivalent of acing the mid-term exam. That win, which brought Lehigh back to a 3-3 record, was huge. But tougher challenges await in the last five weeks of the season.
QB Nick Shafnisky
QB: Grade: B+.
Junior QB Nick Shafnisky has been a tremendous weapon that opposition has had trouble stopping. He is the guy that gives opposing defensive coordinators fits because his mobility can make broken plays into touchdowns.
When Shaf is on, he can really take over a game, either on the ground (427 net yards, 6 TDs) or through the air (1,538 yards passing, 65% completion percentage, 8 TDs). But the o
nly thing keeping this from being an A are turnovers (8 INTs, fumbles).
Shaf has shown a lot improvement from last season - you can see it as he elects to throw the ball away when nothing develops, or running out of bounds rather than lowering his shoulder to take unnecessary contact. Still, there can be improvement here. As Shaf himself might tell you, he is close to being considered one of the elite QBs of the Patriot League, like Holy Cross QB Peter Pujals or Fordham QB Kevin Anderson. But he's not quite there yet. The second half of the season will determine whether he is.
Freshman QB Brad Mayes has looked pretty good in limited time in mop-up duty as he learns the offense.
RB Dominick Bragalone
RB: Grade: A.
What was a giant question mark going into the season has, perhaps a bit surprisingly, become a true area of strength. Going into the season, only
junior RB Kenny Crawford
had any significant touches on offense, but
freshman RB Dominick
Bragalone, freshman RB Micco Brisker and sophomore RB Nana Amankwah-Ayeh have formed for a strong rushing group that, at their best, has cemented big victories this year.
Lehigh as a unit has averaged 190.7 yards per game on the ground this season, and in their best games they've had over 200 yards on the ground. Against Bucknell they had 229 on the ground, and Bragalone had his second 100 yard rushing game of the season, while Amankwah-Ayeh ground out some great yards in order to get the victory in Lewisburg.
They've also been important cogs in the passing game, too, and they've also been developing very well as blockers. They have been a great surprise and a huge source of hope for the end of this season and beyond.
WR Troy Pelletier
WR/TE: Grade: B.
Overall this has been a balanced, deep group, led but
sophomore WR Troy Pelletier
(435 yards, 4 TDs)
. Through some injury and inconsistency, the group has held up well and has provided Shafnisky with a plethora of targets, which is critical to making the offense go.
So why the "B" grade overall? While the receiving crew has been good in possession overall, they've lacked a bit of explosiveness. Pelletier has half the receiving touchdowns on the team, and there's only been two receptions of 50 yards or more. There have been flashes of some explosiveness, notably a beautiful catch by sophomore TE Drew Paulsen for a touchdown last week vs. Bucknell, and plenty of flashes from senior WR Derek Knott, junior WR Trevor Soccaras, sophomore WR Sasha Kelsey and sophomore WR Gatlin Casey. If more of those flashes become consistent trips to the end zone in the second half of the football season, it could be the foundation of something special. But as of now, it hasn't happened enough.
OL Zach Duffy
OL: Grade: C+.
When they've played well, Lehigh has had a great chance to win football games. But against some of the better teams on the schedule (No. 1 James Madison, Yale), they've been pushed around, and it's shown up on the score sheet.
It was the Bucknell game where it really looked like the offensive line turned a corner, and it showed up in the form of 432 yards of total offense. They gave Shaf time to throw and for the running game to grind out first downs - the offense was 13 out of 18 on 3rd down conversions.
Junior OL Zach Duffy, senior OL Stephen Camasta, junior OL Brandon Short, senior OL Matthew Cohen, sophomore OL Tim O'Hara, senior OL Matt Ford and senior TE Chris Ruhl effectively aced the midterm, as far as the offensive line play has gone. But they'll need to keep things up in order to have a successful second half of the season.
DE T.J. Stubbs
DL: Grade: C+.
The p
ass rush has been pretty good and steady overall, but just like the offensive line, they got manhandled against James Madison and Yale. Certainly injuries had taken their toll on this unit all season, but there has been no better predictor of success or failure on the Lehigh side that rushing yards allowed. When the Mountain Hawks have yielded less than 200 yards rushing, they've won. When they've yielded more, they've lost.
Pass rush has been fairly strong and consistent all season long. When healthy, junior DE T.J. Stubbs, senior DE Matt Laub, senior NG Greg Palma and sophomore DE Tyler Cavenas have been getting good pressure and harassment on opposing QBs, and tackles for loss have been frequent and timely. Again, though, the issue is consistency, especially in the run game.
At the risk of sounding like a broken record, the D Line's effort in stuffing Bucknell's run game was a huge part of the win last week. If that was just the beginning, I'm eager to see what's coming up.
LB Noah Robb
LB/Rover: Grade: B.
It's tempting to call this "incomplete" with the number of injuries sustained to this unit, especially at
Rover. In the span of one game, senior LB Laquan Lambert and junior LB Joe Barrett were lost for the year, and a later injury to junior LB Colton Caslow also could have been devastating.
But senior LB Randall Lawson and freshman LB Jake Buskirk have done very well as "next man up" to join junior LB Pierce Ripanti, senior LB Cody Kondas and senior LB Noah Robb to form a solid unit. Considering how this unit struggled last year to contain, it's been great to see things come together. What could have been an area of weakness is an area with toughness and depth.
If there's one area of improvement to look for here, it might be one of opportunism. No linebacker has forced a fumble or intercepted a pass this season.
CB Brandon Leaks
DB: Grade: A-.
Going into the season, it was a big question mark as to how good this unit could be. Halfway through the year, they've done a fantastic job both minimizing the number of big plays and creating a few of their own. They've also survived the injury bug quite well and developed some surprising depth.
Many opposing teams don't spend a lot of time challenging junior CB Brandon Leaks, because they know that it's a wasted effort. But it's not like they've been very successful attacking any other part of the secondary either.
Junior S Brian Githens, before his injury, was an enforcer underneath and also interception leader with 2, but freshman S Sam McCloskey has come right in and picked up where Githens left off.
Quietly,
sophomore S Quentin Jones
has shown the ball-hawk skills that has forced turnovers, while
senior CB Olivier Rigaud
has shown big play ability of his own, stripping a Princeton QB of the ball and taking it to the house for a 72 yard fumble recovery.
The secondary has played extremely well and has allowed for the sort of confidence that has made the entire defense recover some swagger, something that has been lacking in the past few years at Lehigh. Can it turn into some all-Patriot League players and a run at the Patriot League championship?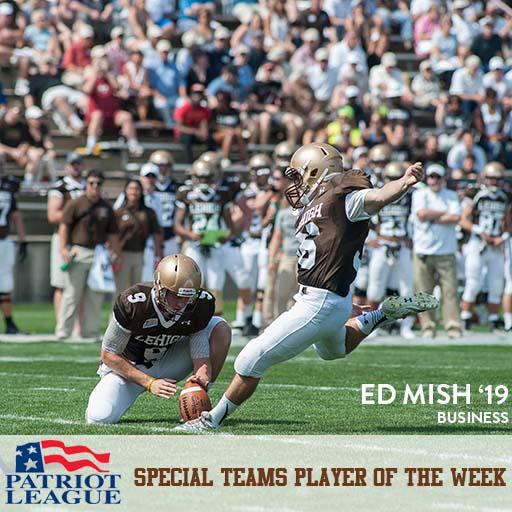 Special Teams: B+.
Freshman PK Ed
Mish has been nothing short of outstanding, and has shored up an area that has always struggled to be consistent. He's been perfect from kicks inside the 40 yard line, including 16/16 on extra point tries, and the field goal he missed, a blocked kick at Bucknell, was a stretch 49 yarder that needed to be low in order to have a chance. It's been the best it's been in years.
So why the B+? In the punt game, senior P Austin Devine has had some great days kicking and some not-so-great days, to the tune of a 36.09 yard net average. When Devine is playing great, he can be a big weapon in a low-scoring game, and he's shown that at times.
Additionally, though the kick return game has been very solid with the current group of freshman WR Luke Cristiano, sophomore CB Marc Raye-Redmond, freshman WR Mike Gies and freshman WR Donovan Harris (who since was injured), there still hasn't been a kickoff or punt returned for a touchdown yet.