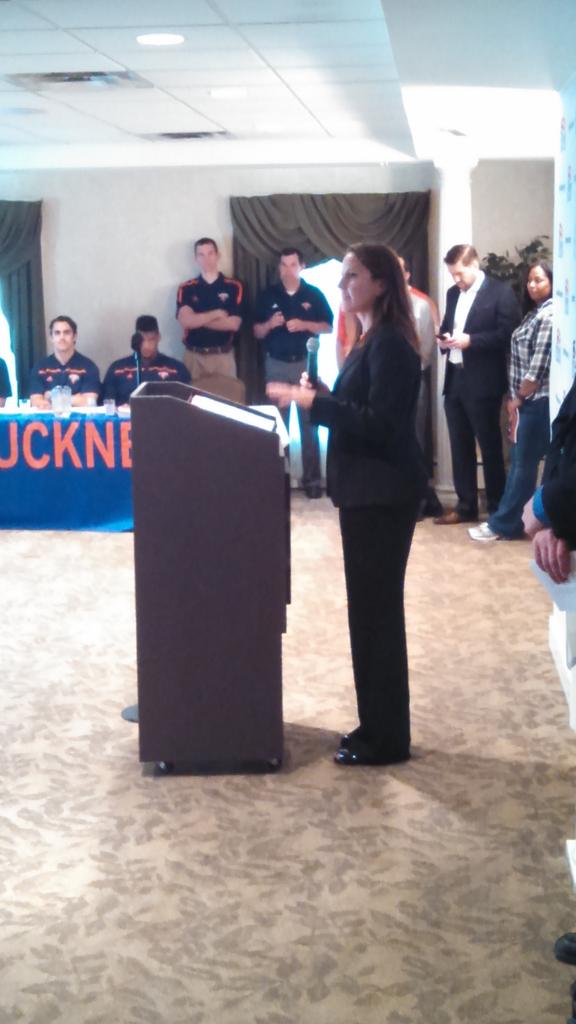 In the past, the opening comments from the Patriot League Executive director took a good ten to fifteen minutes.
But since it was
Jennifer Heppel
's second day on the job, her opening comments were short and sweet.
"I turned on the computer, retrieved a voicemail, and despite the fact that I was convinced I would lose the battle, I considered it a day well lived," she said.
Before addressing the assembled media at the Green Pond Country Club, she had met with all seven Patriot League football coaches and discussed the different rules changes.
"I couldn't be more excited to be here honored to be the next leader of the Patriot League," she continued in her brief comments.
A few minutes later, Lehigh was picked to finish fifth in the preseason Patriot League football poll.
Sophomore WR Troy Pelletier, junior LB Colton Caslow
and
senior P Austin Devine
were named to the preseason all-League team, and just like that, the media were unleashed to meet with the coaches, administrators, and athletes.
The
preseason poll
was the closest vote I could remember, which was a bit of a surprise to me since I had Fordham pegged as my preseason No. 1.
Instead, Bucknell finished a mere 3 points behind the Rams at the No. 1 spot.
Colgate and Lafayette were next, followed by Lehigh, Holy Cross, and Georgetown. Only two points separated 5th placed Lehigh and 6th placed Holy Cross.
1. Fordham - 66 (10)
2. Bucknell - 63 (4)
3. Colgate - (48)
4. Lafayette - (44)
5. Lehigh - (31)
6. Holy Cross - (29)
7. Georgetown - (13)
Holy Cross had
junior QB Pete Pujals
on the
pre-season all-Patriot Team
, as well as
junior WR Jake Wieczorek
. The preseason offensive player of the year, no surprise, was Fordham
sophomore RB Chase Edmonds
, winner of the Jerry Rice award for the best freshman in FCS.
On defense, the Rams made it a clean sweep with
senior LB Stephen Hodge
taking the top honor.
Edmonds and Pelletier were two of three sophomores that made the preseason all-Patriot team. Bucknell
sophomore DL Abdullah Anderson
was the other.
Tune in this week as I wrap up what else I learned at media day, including a Lehigh preview for 2015 and knowledge of Lehigh's upcoming opponents.
2015 Patriot League Football Preseason All-League Team
Preseason Offensive Player of the Year:
Chase Edmonds, RB, Fordham (So.)
Preseason Defensive Player of the Year:
Stephen Hodge, LB, Fordham (Gr.)
Offense
QB Peter Pujals, Holy Cross (Jr.)
RB Chase Edmonds, Fordham (So.)
RB C.J. Williams, Bucknell (Jr.)
WR Will Carter, Bucknell (Jr.)
WR Troy Pelletier, Lehigh (So.)
WR Jake Wieczorek, Holy Cross (Jr.)
TE John Quazza, Colgate (Sr.)
OL Julie'n Davenport, Bucknell (Jr.)
OL Ramy Kased, Bucknell (Sr.)
OL Garrick Mayweather, Fordham (Sr.)
OL Connor Staudle, Lafayette (Jr.)
OL John Weber, Colgate (Sr.)
OL Nick Zataveski, Lafayette (Sr.)
RS Matt Smalley, Lafayette (Sr.)
PK Jonah Bowman, Colgate (Jr.)
Defense
DL Abdullah Anderson, Bucknell (So.)
DL Marlin Crook, Fordham (Jr.)
DL Victor Steffen, Colgate (Sr.)
DL Justin Vaughn, Fordham (Jr.)
LB Colton Caslow, Lehigh (Jr.)
LB Kyle Diener, Colgate (Jr.)
LB Mark Dodd, Lafayette (Sr.)
LB Stephen Hodge, Fordham (Gr.)
DB Clayton Ewell, Bucknell (Sr.)
DB Jared Roberts, Lafayette (Sr.)
DB Ettian Scott, Georgetown (Sr.)
DB Matt Smalley, Lafayette (Sr.)
P Austin Devine, Lehigh (Sr.)