These ain't your mothers' Bison anymore.
For years football games against Bucknell didn't register on the radar screens of all Lehigh fans, thanks to a fifteen-game winning streak against the Bison.
They do now, though.
After that long winning streak, it may, perhaps, have been forgivable for Mountain Hawk fans to think Bucknell's homecoming win at Christy Mathewson Stadium two years ago might have been a bit of a fluke.
Any thoughts of a fluke were put to bed after last year's double-digit spanking at the hands of the Bison, though.
At a school known around the league as a hoops-first, football-somewhere-down-the-priority-list type of place, Bucknell was a hair away from being in the drivers' seat for the Patriot League championship, taking eventual league champs Fordham to overtime before falling in extra time.
Head coach
Joe Susan
's goal this year is to have Bucknell take their new culture of winning and take it to the final, logical step: winning the Patriot League and going to their first-ever FCS playoff appearance.
Case You Forgot, Bucknell Can Ball, Too
When most Lehigh people think of Bucknell they think of basketball. Their success in the Patriot League, not to mention their success in the NCAA Tournament against Kansas and Arkansas, is a giant part of their DNA.
In football, though, success had been hard to come by until recently.
Since losing the Patriot League championship on the final day in 1997, the Bison have had a difficult time gaining traction on the gridiron.
That was before head coach Joe Susan came along.
Entering his sixth year as the head coach, Susan has notched winning seasons in three of their last four seasons, including last years' 8-3 record, a testimony to Susan's success in turning around the Bison.
"We have the winning culture that's been lacking in the past," coach Susan
told the Sunbury Daily Item on media day
. "Now that we're expected to win, nothing should really change. We know how things are done, we just have to keep it going."
One area where Bucknell will clearly want to keep things going is piling up touchdowns against Lehigh's defense.
The Bison scored 93 points in two games in their last two games against the Mountain Hawks, a
48-10 stampeding two years ago
and a
45-24 stomping last year
.
A good amount of Bucknell's damage came on the three touchdown passes to
junior WR Will Carter
that came from backup QB Trey Lauletta, who played the entire game for injured
junior QB R.J. Nitti
. Carter's 3 touchdowns in that gamer were strikes of 69, 78, and 77 yards respectively - or 224 of his 246 yards receiving.
"The last one was a double move," Lehigh head coach
Andy Coen
said after that game. "He jumped the first route, but you can't do those things. On another, a guy was out of position, and he just ran down the field, a fast guy."
"Trey played a really smart game," Susan said afterward. "He didn't try to do anything he can't do. It is rewarding for this group to come back with a win like this. They did a great job keeping their composure when Lehigh came back. It was a team victory."
Unhappily for Lehigh, many parts of the two offenses that walloped their defense will be returning to the Bison offense.
Aside from Carter (53 receptions, 959 yards, 9 TDs), they also return a fully-healthy Nitti (105 completions, 1,553 yards passing, 13 TDs, 7 INTs) and a fully healthy junior RB C.J. Williams (170 carries, 920 yards, 9 TDs). Neither Nitti or Williams played a down at Lehigh last year.
More Like Daven-Huge, Amirite
They also will be returning a huge - and I mean, literally, huge - part of their offensive success last season in the form of 6'7, 315 lb junior OL Julie'n Davenport, meaning that Bucknell's offense should be a force to be reckoned with again.
Though three linemen graduated from last year's team, Davenport will certainly be a bookend tackle for the Bison.
Bucknell averaged 8.9 yards per pass play and yielded 29 sacks last season. The number of sacks allowed was clearly an area of improvement for this still-young team.
"We just need to bear down, protect our QB," the businesslike Davenport
told Campus Insiders.
"This year, as long as we are working, everything is going to be fine."
Defense is where the Bison will need to replace plenty, however.
Gone are Patriot League defensive player of the year LB Evan Byers and LB Lee Marvel, the two leading tacklers on the Bison. DE Demetrius Baldwin-Youngblood also graduates, who had 15 tackles for loss and 11 sacks.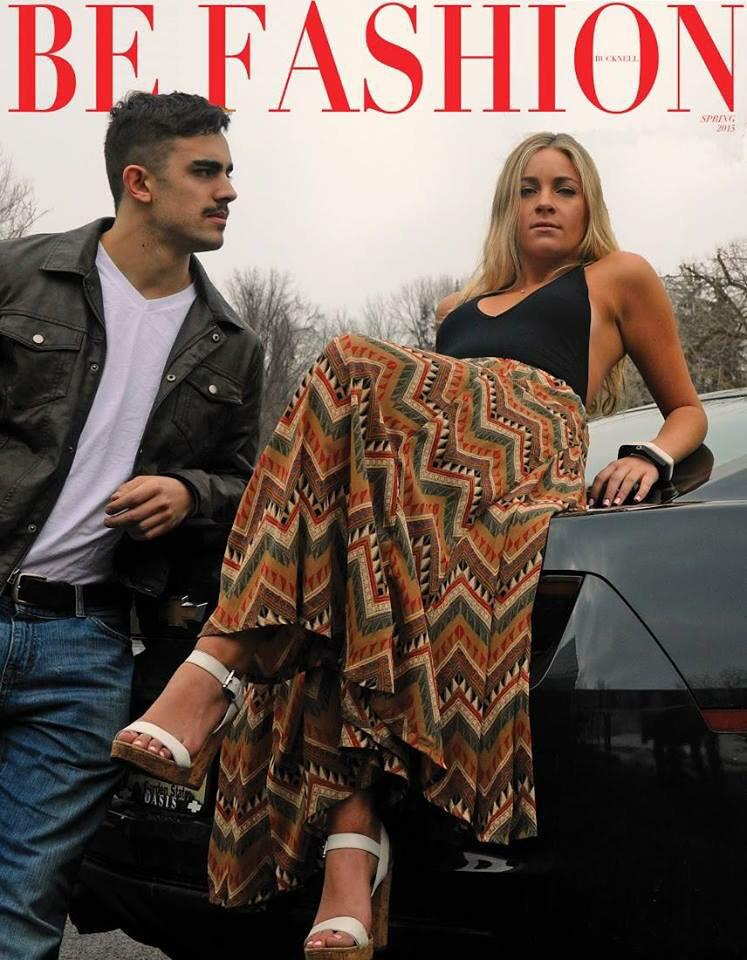 Louis Preparing For His Life After Football?
The Bison will rebuild their defense behind their secondary, senior FS Louis Taglianetti (62 tackles, 3 INTs), who returns as well as an experienced secondary which also features senior SS Clayton Ewell (53 tackles, 4 INTs).
"I've always led by example," Louis, the new team captain said. "Running hard, being engaged in practice, leading the younger guys. The title changes, but everything else stays the same."
Though Louis seems like a serious guy on the football field, off the field he's known more for his social media, according to Campus Insiders. Calling him the "best social media follow in the Patriot League", I've got to admit, he's good.
Sort of the opposite of the businesslike Joe Susan.
Bucknell has more skill players on offense than anyone else in the Patriot League. If they can get their offensive lines in order and plug in some new guys on the front seven, there's no reason to believe that they won't be competing for the Patriot League championship again this season,
"One of the biggest things for the guys to understand is the team we were isn't the team we are," Susan said. "Where we're ranked in the polls right now, it's our job to prove those people wrong to be where you want to be ranked in the polls."