You don't have to have attended more than twenty-five years of Lehigh football games to know it's a completely different world out there for your friendly neighborhood sports fan.
When Lehigh's Murray Goodman Stadium was opened in 1988, there were only about a dozen channels on the small, eighteen inch black and white TV we had in our dorm room. Only two channels might have had "major college football" games on at the same time a Lehigh football game was being played live over the mountain. (Notre Dame, the only school who had all their games televised, almost always played their games at 3:30 PM.)
Nowadays there's way more entertainment options on a typical college weekend than ever, and it's very logical to think that the increased amount of competition might not just keep students away from attending football games, but local fans as well.
It's not an issue confined to Lehigh - in 2014, home attendance at all FBS games dropped to their
lowest levels in fourteen years
. As student options have increased across the country, home attendance has decreased.
It's a question worth asking at a school like Lehigh - how to get fans to the games, and keep them coming back?
I've attended enough college football games to know that, at all levels, they go to taste everything at the college football game buffet.
They will go early to experience a college tailgate, with beer, food, and socializing. They will show up in the parking lot to see the Marching Band march into the stadium, and they will hang out and listen to bands battle on each of the sidelines. They will sample the BBQ from the food trucks, catch the footballs in the grass oval, watch the Lehigh dance team, watch the action on the field, listen to music and a boisterous PA announcer, and after the game they'll finish off the final beers and hotdogs and head on home.
If there's a tailgate before, people will attend. If there's a tailgate after, they'll attend. If there's a radio pregame tent, they'll be there. If there's a DJ, they'll be there. If there's a band, they'll be there.
Pretty Sure This Is What We'd All Like To See At Tailgating
For a significant number - the diehards - they will sit and obsess about
junior QB Nick Shafnisky
's run/pass ratio or the relative merits of the Brown and White's defense suiting up in a 4-3 or 3-4 formation and the resulting extra pass rush or pass defense it might provide.
But there are a lot more people who simply want to take selfies of themselves at a tailgate, in the stands, maybe next to the marching band, and then head home. They simply want to be
around
college football, and enjoy what college football
is
-
all the experience around the game.
In my opinion, that's the mixture that spells a successful number of fans attending games.
You need to be able to mix the diehards, who have been to the rodeo before and are there to experience the football, and the newcomers to the whole experience, which almost certainly include new students. You need to get them both in the door, and delight both. It's a tricky balance.
Recently,
The Brown and White
tackled the question of student attendance at games
in this excellent article
by
Austin Vitelli
.
"Especially on defense, if you stop a team that's driving on you on third down and everyone gets in the game, the players, the coaches, the fans, it adds so much more than people even realize," Shafnisky told him.
The more fans show, and the more difficult it is for the away team, the better the home field advantage - and the better it is for the team to compete. Which improves the gameday experience, and gets more people to bring their friends. It's an upward spiral.
****
Whenever the subject of declining attendance at Lehigh football games comes up, two factors consistently come up as issues: location and time.
Taylor Stadium, With Fraternities In The Distance
At many schools, it is possible to have a 18,000 seat stadium close to campus. Until 1987, Lehigh was such a school.
Taylor Stadium
stood where the Rauch Business Center now stands, which couldn't have been more convenient for students in dorms, fraternities or sororities.
Morning cocktails could be consumed there, or elsewhere on campus, then students could mosey down to the game whenever they wanted, whether it was the first quarter or the fourth quarter.
Though tailgating on campus was great, parking at the old stadium was always an adventure, however. Usually folks needed to scour campus for any available parking spots, made much worse when That School from Easton was in town.
In 1988, football moved over the mountain to
Murray Goodman Stadium
, which opened things up with tons of open space for tailgates, including three large parking lots and tons of grass to enjoy before a game.
However, the cost of all this added space was the fact that students now had to find transportation to the games, sometimes by school-sponsored buses.
Initially, the expense and hassle of going across the mountain didn't deter those that wanted to take in a Lehigh game. Overflow capacity crowds showed up at Murray Goodman for many early games, including the first-ever game in the stadium vs. Cornell.
Over time, though, Goodman's location been a persistent issue with people.
It stated the results of a survey which stated that students were 85.1% more likely to attend games if the stadium were closer. Additionally, "accessible transportation" was the third-highest survey response when it came to "Factors encouraging people to go to a game."
Lehigh does provide transportation for students to attend games.
"Multiple student buses are provided for every home game from the Dialogue Center on the Asa Packer Campus," assistant marketing athletic director
Rich Haas
told me. "Some upperclassmen choose to drive to the game, but buses are available to transport all students to and from Goodman Stadium. Athletics and Transportation Services work together to provide this service safely and conveniently."
Transportation to and from the stadium, then, might simply be a function of information and education rather than access. Still, one wonders: could a fleet of enterprising Uber drivers make a difference in closing any "transportation gap", real or perceived, in increasing Lehigh football attendance at Murray Goodman?
*****
Another issue that consistently pops up is kickoff time.
Since Murray Goodman Stadium doesn't have lights, kickoffs for football games consistently kick off at 12:37 PM.
The option currently does not exist for late afternoon kickoff times today.
Over the years, I have asked people associated with the Lehigh football program about the possibility of hosting a day or evening game.
Consistently the answer to the question "why not" is that the cost of lighting the stadium - and all of the parking areas adjacent to the stadium - would be prohibitive.
Ironically, what makes Murray Goodman such an awesome daytime tailgate venue during the day is a great liability at night - all those fields adjacent to the stadium.
They would be as dark as the night, as well as the paved and gravel parking lots outside the stadium, and would also likely need to be properly cordoned off, a big logistical issue.
Still, late afternoon or night games offer many benefits that would be great for fans, something that Lehigh fans have seen when attending away games at Liberty or Princeton.
The pregame party could be a longer event, offering more time to socialize with friends and share food. Rather than hoofing it over the mountain at 10 in the morning, fans can start showing up at noon or 1PM for a 3:30PM or 6PM kickoff.
Additionally, the novelty of a night game would no doubt bump up attendance for a specific game - it would bring excitement, the first-ever night game played at Murray Goodman.
If something could be done within a sensible price point.
"We currently have enough lighting for a night event in a full Stabler Arena [5,000 to 6,000 fans]," Hass told me, "but not enough for a 10,000-plus crowd in Goodman Stadium."
Unfortunately there's evidence that nighttime Patriot League games do not always draw a lot of fans, especially if the opponents are not traditional opponents.
Not An Actual Shot of RMU at Lafayette, But Maybe Close
Last season, Lafayette's Fisher Stadium, which, as most Lehigh fans know are outfitted with permanent lights, hosted their first home game last season with a 6:00 PM start against Robert Morris, a game where they walloped the Colonials 50-3.
The
announced attendance at the game was 3,207
, not exactly numbers that inspire confidence that night games at Goodman might eclipse 10,000 fans.
If the demand is there, perhaps there's a creative solution - limiting everyone to one single parking lot or tailgate area, for example - but it's certainly not as easy as buying a couple of floodlights and beaming it onto the field.
It's a large, expensive, project. Would it be worth the cost? Can the math be made to work out?
*****
The essential sport of tailgating is as important at Lehigh as it is everywhere.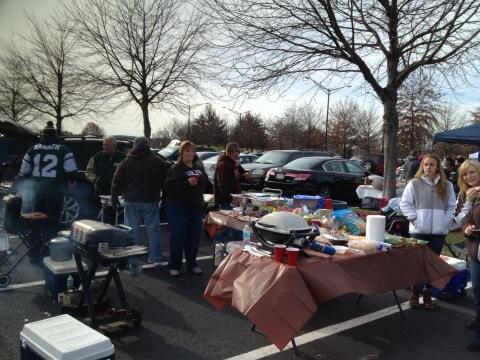 Which Way To The Burgers?
At Murray Goodman, tailgating is a great experience - if you're willing to get there early for the 12:37 kickoff.
Historically, the student tailgating areas and the alumni tailgate areas have been separate.
Students tend to congregate at the "North" lot, a grassy area northeast of Murray Goodman stadium, while alumni groups generally gather at the "South" lot, the paved and gravel areas where the more elaborate food setups are.
For example, one very active football alumni group, the "King of Tailgates", sets up shop very close to the Rust Pavillion in the South lot about a javelin's throw from the entrance of the stadium, and frequently has a "theme food" for the upcoming Lehigh opponent. On Rivalry weekend, it's deep-fried turkey.
On the student side, the North lot, it's louder, with music, burgers, and individuals and fraternities sponsoring the parties. It's a decidedly different atmosphere than the South lot, though students sometimes head over there to meet family - or to sample deep-fried Turkey.
Everyone has great things to say about the tailgating, which starts two hours before kickoff (and sometimes before), and concludes about an hour and a half after the game ends.
The problem is the number of students who go for the tailgate but never scan their ID to go into the game.
Two student pregame rituals have sprung up in regards to tailgating.
One is morning cocktails, or "mocos", where students have morning cocktails on campus. Many students have the cocktails, but don't make it over to the game.
Those that do get the chance to experience the tailgates, the games, and the post-game tailgates. But there's a lot of places for students to fall off the wagon, starting on (or off) campus.
From
The Brown and White
article:
In a survey of Lehigh students and young alumni, which received 208 responses, nearly 20 percent said they always go to tailgates but only sometimes attend the games. In contrast, just over 10 percent said they always go to both tailgates and the games. Nearly 40 percent responded that they sometimes attend tailgates and sometimes the games.
Kasia Kanczewski, '15, is a student who goes to every Lehigh football game and every mocos — which she believes is a testament that one can enjoy both Mocos and the actual game. She said that mocos have been one of her favorite experiences at Lehigh, but that she doesn't understand people who go to Mocos and skip the game.
"I just don't understand…why would you get up out of bed to go drink for an hour or two and then go back to sleep?" Kanczewski said. "Whereas instead you could drink, have fun, go to the tailgates, have more fun, go to the game, support your team…I don't know, it's not rocket science to me."
Could Be Headed to a Lehigh Football Game
The other pregame ritual is one of neon.
Students, either as a rebellion against Lehigh's school colors or another reason, have developed a ritual where they wear neon and day-go attire instead of Brown and White.
While I'm bemused by the ritual, there is somewhat of a anti-school feel to it, something that's annoyed some members of the team, who sometimes feel as if it's a reaction to them.
"I just think that a lot of students just use our football games as an excuse to day drink and do Mocos, but then they don't even show up to the game," Camasta said in
The Brown and White
. "And also they never wear brown and white, which is something that also really bothers me."
Certainly if the stadium is on campus, there's fewer chances for students to decide to not go to the game. But that's not an option at Lehigh - Murray Goodman is where it is.
Ultimately, it comes down to the tailgating experience for the students. If it's something that students feel is an indispensable part of the football buffet, they will find a way to come. And after that, it's up to the school to make sure they come (and return) safely to campus.
Students should come for the tailgating, and they shouldn't just stay in the North Lot. There's a lot of fun to be had in the South Lot, too.
*****
There's also the matter of competition.
Like it or not, this is competition
Lehigh football fans, generally, are also college football fans in general.
Of course Lehigh's performance is of paramount concern, but there's also the matter of other games that are in progress around the country.
And in our part of the country, that generally means Penn State football.
Penn State games weren't always on television in the Lehigh Valley, but now, every Penn State football game is carried on basic cable.
That means, by its very nature, every college football fan in the Valley has to make a decision: to catch a live Lehigh football game, or to catch a Penn State football game, either by driving to Beaver Stadium or watching it live, at home, on basic cable.
Penn State isn't what it used to be, but anecdotally, fans seem more likely to attend a Lehigh football game if there isn't another Penn State game on at the same time.
Happily, Lehigh's early-season schedule maps up extremely favorably with the Nittany Lion schedule.
Lehigh's first home game of the season will take place at 12:30 PM at Murray Goodman on September 19th. Penn State plays another FBS school that is local to the area - Rutgers - at 8:00PM at Beaver Stadium.
That even makes it possible for local college football diehards to see Penn vs. Lehigh and then drive to Happy Valley to watch Penn State and Rutgers square off.
Not a bad combination.
Sorry, Illini, Not A Marquee Matchup
On 10/3, Lehigh faces off against Yale at home, which may compete with Penn State/Army (whose kickoff time has not been determined yet). However, it's also homecoming weekend, traditionally one of the best-attended non-Lafayette games of the year with a slew of different events planned.
After that, Lehigh/Georgetown and Lehigh/Holy Cross games match up against two of the weaker Nittany Lion matchups of the season: Penn State/Illinois and Penn State/Northwestern.
By the time the Georgetown game rolls around, Lehigh's season will be in full swing, and certainly Lehigh's performance on the field will determine a large part of the excitement for that game.
If the Mountain Hawks are looking at an undefeated season, lots of fans will show up. If they're en route to another 3-8 season, there's a lot less incentive for casual folks to show up.
Certainly Penn State isn't the only competition for the "casual college football fan" at Lehigh games. There are also local fans of other schools, too.
In the FCS world, Villanova, New Hampshire, and Delaware are also in competition for fans as well. A significant number of New Hampshire football players have ties to the Lehigh Valley area, as shown by their good turnout when the Wildcats came to play Lehigh in Murray Goodman several years ago.
This is where Lehigh might get competition, unfortunately.
This season, for the first time since the advent of the CAA, Villanova chose to
reschedule their rivalry game against Delaware
.
Rather than occurring at the end of the season, happening during Lehigh and Lafayette's big Rivalry, they moved it to September 19th - at noon.
Pope Francis Shares Insight On Lehigh's Upcoming 2015 Season
(Every indication is that Villanova rescheduled this game to this week as a one-time deal - to coincide with
Pope Francis
' visit to Philadelphia. However, it's an unhappy accident.)
If there's an FCS fan in eastern Pennsylvania looking for a game to attend - or watch on TV, on Comcast Sports Net - it's just one more thing that might entice someone to stay home rather than trek to Murray Goodman.
(New Hampshire plays at Stony Brook that day, too, but it's a 7:00 PM kickoff time.)
So there certainly is a lot more competition for college football fans in the Lehigh Valley, at both the FBS and FCS levels.
"Going out to see a college game in person is not that special anymore, not in this high-tech era when you can see whatever you want to see right on your cellphone," one person
told me a few years ago
, echoing the opinion of other fans I've talked to. "Back in the old days, there were two or three games on TV on a normal college Saturday. Now our TV listings show about 25 games available every Saturday and that's not including those with Direct TV and other options."
But in my opinion, it's not an insurmountable problem - and one that might have an easy solution, such as, perhaps, an FCS information center at the game, or in the tailgate area.
We live in a world where things like big-screen TVs at tailgates are surprisingly possible, and when you include things like Google Chromecast and unlimited data plans, it's possible to see and experience the wider college football world on a video screen, even inside Murray Goodman.
Three of These Ought To Make An Awesome Tailgate
In my sleeping hours, I see something like I see at Philadelphia Eagles tailgates - an elaborate setup with one or more big-screen TVs, one, perhaps, streaming a Penn State game, the other with Campus Insiders' live stream of the end of the Fordham/Bucknell game.
Some stadiums, like Delaware's Tubby Raymond Stadium, Liberty's Williams Stadium and Lafayette's Fisher Stadium, have large-screen scoreboards, where highlights could theoretically be streamed during the game, or at least scores from other games could be shown.
Maybe that's something that might make Murray Goodman Stadium feel a bit more connected to the wider FCS world.
The question is, as ever, cost. Either individuals, or the school, would have to pay for these neat amenities that are increasingly becoming a part of tailgates everywhere. That's an awful lot of money that would probably have to come through donations.
*****
Football Games Mean More With The Bands
Despite some of these small challenges, Lehigh continues to be one of the leaders of the Patriot League in home attendance.
Much of that can be attributed to not only the tailgating atmosphere but the tradition inside the stadium, too, with the fairly large spirit team presence - at least by Patriot League standards.
Marching bands have been a part of the Lehigh football program since the 1910s, when Bethlehem Steel's brass band would come and play to cheer on the Brown and White. Eventually students would take over and help create the
Marching 97 and its tradition
.
Not Only Football Players Lead the Team
In the past, it was more customary for the full band to accompany the team on most away games, as well as appearing in home games.
However increasing costs and shrinking halftime rest periods have made it so that bands don't travel nearly as frequently to the games, which makes a bigger difference than you might think.
Battling bands are a big part of the college football buffet, just as cheerleading, dance teams and mascots are.
But they're a lot less fun unless the other team shows up with them, too.
This season, the Marching 97's has one "official" road game which they're attending, which, perhaps not coincidentally, is also the shortest possible road trip for the band. They are heading to Princeton on September 26th, with a listed kickoff time at 5:00 PM.
Nice Place to Watch a FCS Football Game
Their presence at Princeton will make that road game a lot more fun for both sides, and will as a result be a very well attended game, I predict. Princeton's scramble band, one of the few remaining at the Division I level, will make it a great event.
Volunteer groups make up the other band trips, but it means that the band presence is reduced to more of a pep band status. Too frequently, though, the other teams don't send anyone, especially if they have to come from long distances.
While it's impossible to require visiting teams to bring band and spirit team support, with a fun atmosphere it may be so compelling to a visiting team that they would want to go the extra mile. While Princeton's proximity is undoubtedly a big reason why they are the official Marching 97 band trip, Princeton Stadium is also a top-notch facility for fans and players alike.
Lehigh can also be that type of football destination, too.
*****
Nowhere better
Lehigh has a great game day atmosphere.
To this reporter, there's no better place to be on a crisp fall day, and there's nothing better than a stadium loaded with Lehigh football fans.
Many of the issues listed here are not particularly unique to Lehigh.
All schools are competing with other football programs, TV, and other entertainment. All schools are cutting back on spirit teams and travel. All schools struggle with costs, and benefits, of their gameday experience - even the biggest programs.
Even with these challenges, Lehigh's season ticket sales have been fairly brisk to this point.
"To date, we have sold enough season ticket equivalencies (full season tickets plus mini-plans) to be at 77% of last year's total," Hass told me, "with 2 months still to go until the home opener, and 2 weeks until the season ticket deadline."
Additionally, there are some announcements planned in the weeks ahead - specifically a "tech-integrated program" that builds on the student rewards programs over the last four years - that promises to give students more incentives to attend the games and enjoy themselves.
That should help entice more students to go from Mocos on the buses to the tailgates and to the games, and hopefully keep them there to show them how great - and unique - Lehigh's stadium is, and why Murray Goodman is one of the best places to watch an FCS game.
Yet enticing students is only the half of it - the other is developing the type of 21st-century experience that is becoming more of the norm these days rather than the exception.
Coming up with the 21st century college football experience will take a combination of technology and creativity. But that's something Lehigh students and athletics folks have in abundance. The final ingredient - money - might be the piece that solves the puzzle of getting fans to games, and keeping them there.