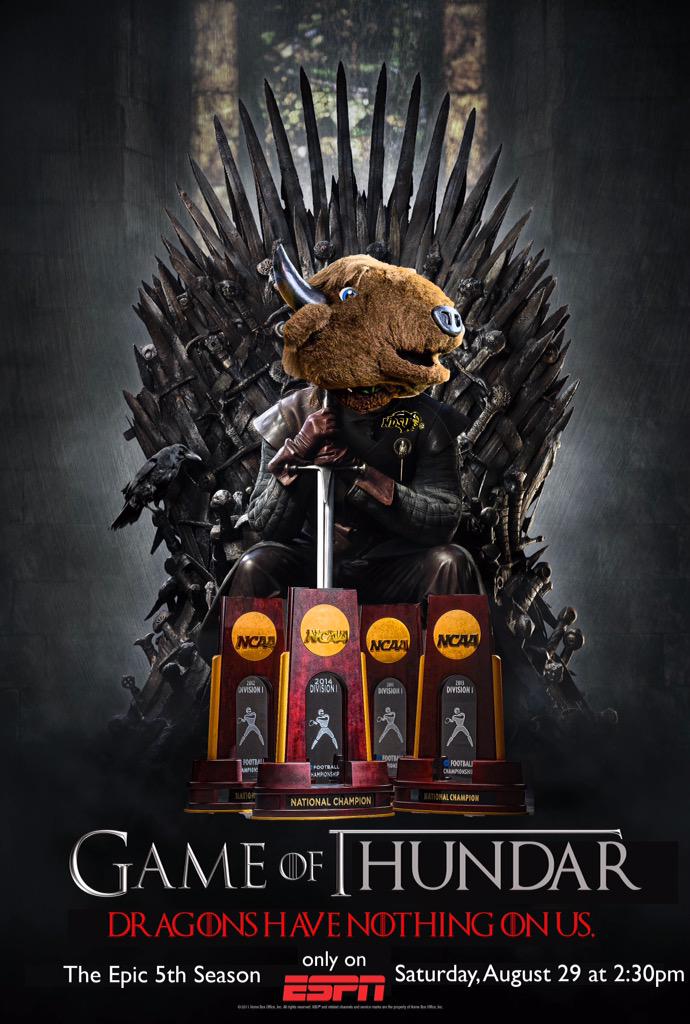 If it's late May, it's magazine season.
With the season still three months away - the official kickoff to the FCS football season, North Dakota State at Montana, will be happening on August 29th on ESPN - the big way to whittle away the time is to look at the many FCS Top 25's that are getting published in airport reading material such as
Athlon
and
The Sporting News
.
Preseason Top 25's are not right or wrong - they're just one sportswriter's opinion on the top teams going into the season.
So I figure, I've got as good as opinion as anyone else - so why don't I post my Top 25 here, and let people read that when they go on an airplane this summer and head to the beach, the lake, or wherever their hearts take them?
So here we go: My preseason Top 25, from No. 25 to No. 1. As a added, free bonus, you'll learn exactly why I put each team where I did.
NCAT RB Tarik Cohen
No. 25: North Carolina A&T.
Leading off the Top 25 are the Aggies, who may be qualifying for the
Celebration Bowl
rather than the FCS playoffs, but return
RB Tarik Cohen
, the co-offensive player of the year in the MEAC last season and a lot more. They should be the favorites in the MEAC and have a Top 25 team.
No. 24: Dartmouth.
The Ivy runners-up graduate a fair amount, but the Big Green still should challenge Harvard with
QB Dalyn Williams
and a significant number of returning starters.
No. 23: Bryant.
With the defending NEC champs Sacred Heart losing quite a bit, the Bulldogs, led by
QB Dalton Easton
and a ton of returning starters, should be strong contenders for a NEC championship and a postseason berth.
No. 22: Montana.
On paper, it looks like a rebuilding year for Montana, not to mention a daunting opening-day opponent vs. North Dakota State. But the Grizzlies' ability to recruit talent should have them right in the thick of things, with
DE Derek Crittenden
needing to lead the defense in the early going.
No. 21: Samford.
Though
FS Jaquiski Tartt
graduated and will likely be playing on Sundays, the Bulldogs return a strong defense, with guys like
LB Justin Cooper
looking to step up in SoCon play to challenge Chattanooga.
No. 20: Southern Illinois. QB Mark Iannotti
seems well poised to return the Salukis to the postseason in the daunting Missouri Valley. Their early home game vs. Liberty will be a very important litmus test in regards to their postseason hopes.
Harvard RB Paul Stanton
No. 19: Harvard.
Not only does Harvard return key skill players from last season like
RB Paul Stanton
, they also carry a 14 game winning streak after finishing a perfect 10-0 season last year.
No. 18: William and Mary.
The Tribe are an intriguing team that returns their leading rusher from last season,
RB Mikal Abdul-Saboor
, and a lot of strong offensive and defensive talent.
No. 17: Eastern Illinois.
The lower end of my Top 25 is loaded with bounceback teams, and Eastern Illinois is no exception. All of the prongs of the Panthers' rushing attack return, including
RB Taylor Duncan
, and with them, perhaps, another shot at the postseason.
No. 16: Indiana State. LB Connor Underwood
will be the big name in a tough Sycamore defense in 2015 in their quest to repeat a trip to the FCS playoffs. A brutal Missouri Valley conference slate awaits, however.
SFA QB Zach Conque
No. 15: Stephen F. Austin.
The son of the head coach
Clint Conque
,
QB Zach Conque,
will hope to build off of last year's success and challenge for the Southland title. Their young team returns a lot and will be interesting to watch. (Hopefully Zach will return the 'stache as well.)
No. 14: Fordham.
Though the Rams lost quite a lot to graduation, they do return
RB Chase Edmonds
, the Jerry Rice Freshman of the Year award winner, and will also include a transfer QB from Marshall that should not have them skip a beat from last year's success in the Patriot League.
No. 13: Liberty.
Flush off their upset win over James Madison last year in their first-ever playoff appearance, the Flames should be a force in 2015, with a potential NFL draftee,
PK John Lunsford
, giving Liberty a weapon few others have in FCS.
No. 12: Northern Iowa.
If
QB Sawyer Kollmorgen
stays healthy, the senior could cause quite a few nightmares for the rest of the Missouri Valley. The Panthers could play the most brutal schedule in FCS, however, leading with Iowa and following with Eastern Washington and a trip to California to face off against Cal Poly. If they can survive that brutal stretch 2-1, they will have a shot at great things.
Montana State QB Dakota Prukop
No. 11: Montana State. QB Dakota Prukop
headlines an interesting Bobcat team that should be competing for the Big Sky championship in 2015.
No. 10: New Hampshire.
They lost a lot to graduation, but enough returns to make them a force to be reckoned with in the CAA. Most important, perhaps, is the return of
QB Sean Goldrich
to the defending CAA champs.
No. 9: Jacksonville State.
So much returns from the Gamecocks from last season that, to me, they are a possible dark horse for the FCS championship.
WR Josh Barge
is but one of a group of starters that could be scary good in OVC play this upcoming season.
JMU QB Vad Lee
No. 8: James Madison.
The disappointment of last season's early playoff exit could be a big chip on the shoulder for the Dukes, who could now see
QB Vad Lee
blossom into an FCS superstar in 2015.
No. 7: Eastern Washington.
They'll be facing off against their former teammate
QB Vernon Adams
at Oregon, but the Eagles have plenty in the pantry to remain the team to beat in the Big Sky.
WR Cooper Kupp
is a baller, and will prove in 2015 that he'll be great no matter who is throwing him the ball.
No. 6: Chattanooga.
Anyone who thought the SoCon would drop off after losing Appalachian State and Georgia Southern last season obviously didn't see any Chattanooga games last season.
QB Jacob Huesman
will lead the Mocs again, this time with the target on Chattanooga as the team to beat in the SoCon.
No. 5: Sam Houston State.
Hard to count a previous FCS national semifinalist a surprise team, but many wrote off the Bearkats last season after an early loss to a D-II school. After that defeat
K.C. Keeler's
squad went on a tear, with
QB Jared Johnson
a big part of that resurgence. And this year, they could be even better.
SHSU QB Jared Johnson
No. 4: Illinois State.
Redbird fans will be breathing a sigh of relief that
RB Marshuan Coprich
's drug arrest was changed to probation, allowing him to be reinstated to the team. However, you have to wonder whether that distraction will be something that lingers into the beginning of the season.
No. 3: Villanova. QB John Robertson
, one of the top quarterbacks in all of FCS, returns to terrorize the CAA for his senior season. The only question is whether his arm and legs can carry the Wildcats all the way to the FCS National Championship game this time.
No. 2: Coastal Carolina.
Mark my words: The Chanticleers are for real and are built to go all the way to Frisco.
QB Alex Ross
is but one tiny piece of the many returning parts of Coastal Carolina's bid to power through their Big South schedule and host a bunch of games in the FCS playoffs in 2015.
NDSU WR Zach Vraa
No. 1: North Dakota State.
Even with all these great top teams, it's awfully hard to go against the four-time defending champions, especially with guys like
WR Zach Vraa
returning from last year's championship team. Though it seems inconceivable guys like Vraa might graduate with five national championship rings (yes, indeed he would), it seems likely to happen unless a team like Coastal Carolina can knock them off the hill.
1: North Dakota State Bison
2: Coastal Carolina Chanticleers
3: Villanova Wildcats
4: Illinois State Redbirds
5: Sam Houston State Bearkats
6: Chattanooga Mocs
7: Eastern Washington Eagles
8: James Madison Dukes
9: Jacksonville State Gamecocks
10: New Hampshire Wildcats
11: Northern Iowa Panthers
12: Montana State Bobcats
13: Liberty Flames
14: Fordham Rams
15: Stephen F. Austin Lumberjacks
16. Indiana St. Sycamores
17: Eastern Illinois Panthers
18: William & Mary Tribe
19: Harvard Crimson
20: Southern Illinois Salukis
21: Samford Bulldogs
22: Montana Grizzlies
23: Bryant Bulldogs
24: Dartmouth Big Green
25: North Carolina A&T Aggies