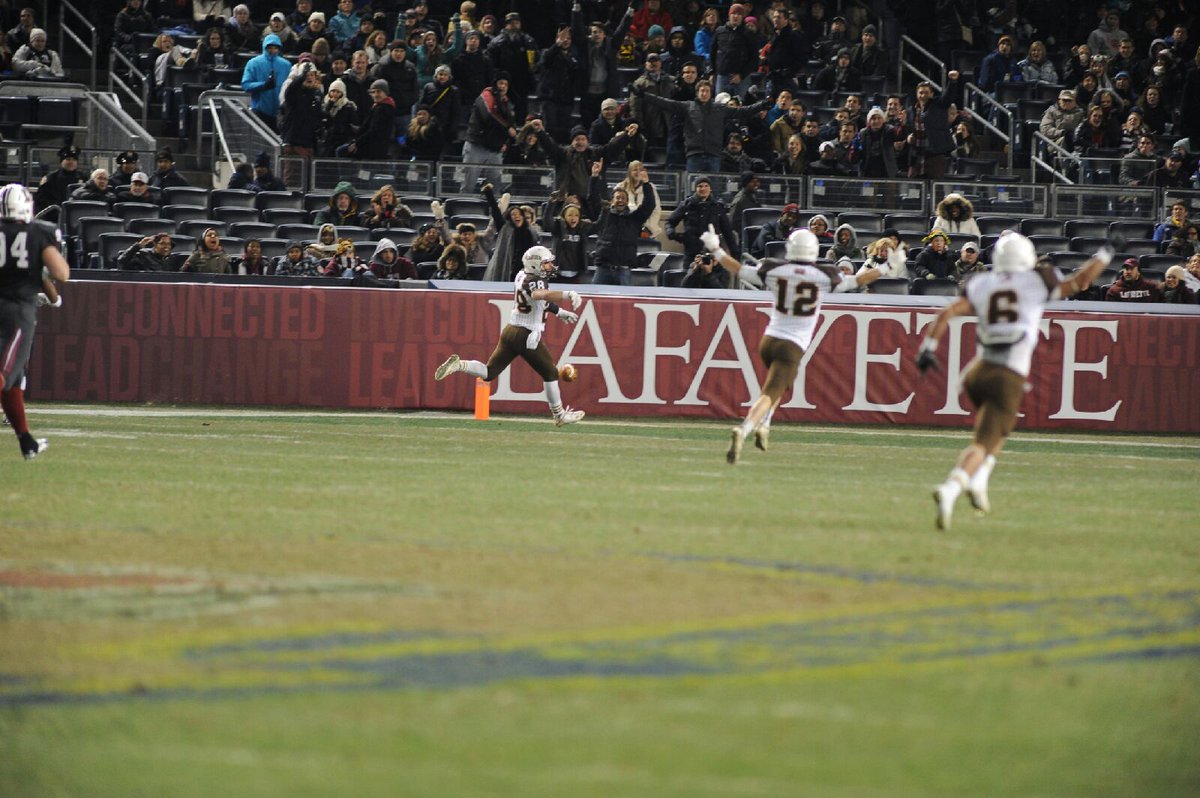 In the run-up to the big game at Yankee Stadium I had an opportunity to talk with Lehigh football alum
OL Dan Mulholland
.
One of the great diehard fans, Mulholland runs the "Kings of Tailgates" at Lehigh home games, partially in tribute to his teammate
Roger McFillan
, who died unexpectedly at the age of 50. The tailgates in Roger's honor, run by Dan, his twin brother
Bob Mulholland
and fellow teammate
Gus Gustafson
, are a Mountain Hawk gameday fixture right next to the Rust Pavillion, and every home game they "grill the opponent's mascot."
It so happened I talked with Mulholland about his best work, his blocking for
RB Jack Rizzo
's record-breaking rushing performance against Lafayette in 1971. Rizzo ran for 313 yards, a Lehigh single-game record that still stands today.
"Yeah, we'll never see any sort of rushing performance like that ever again in a Rivalry game," I told him mere days before Lafayette
RB Ross Scheuerman
would drive his SUV all over the Lehigh defense for 304 rushing yards and 357 all-purpose yards and 3 touchdowns.
When it comes to Rivalry, I don't do
perspective
.
I freely admit it; my perspective is royally screwed up for this game. I do everything wrong. I go into the game with sky-high expectations. Emotions on my sleeve. Expecting too much.
All this season, too, was a season of messed-up Rivalry
perspective
.
I thought my life would be nice and neat this fall, finishing up my book on the early Rivalry in mid-August. (With, obviously, still cranking out my regularly-scheduled number of game previews, hype for the 150th game in Yankee Stadium, and generalized commentary about the state of FCS.)
By opening day I would be finalizing the edits and placing the pictures, and by Labor Day I'd have a print version available at your local bookstore. Because the book, you see, would be absolutely perfect by then.
Any fool in the street would probably have figured out that this type of schedule - complete with expanded day job responsibilities and other challenges - would cause problems for any sort of book release. And that's before I had to obsess about how
perfect
it needed to be - because, dear Reader, I don't do
perspective
when it comes to the Rivalry.
Even the week before the game my
perspective
was messed up.
About how this was still a Lehigh team run by seniors, even though it was freshmen and sophomores, like
sophomore QB Nick Shafnisky
and
freshman WR Troy "Doctor" Pelletier
, doing a lot of the heavy lifting.
How the defense would raise to an unforeseen level on game day - how
senior DT Tim Newton
, fighting through double and triple teams all season, would grow twice as big and toss Lafayette offensive linemen around like rag dolls. (
Perspective.
)
How this was a rebuilding year - until the game in Yankee Stadium, of course, where suddenly, obviously, it was secretly a Patriot League Championship Game between two sub-.500 teams. (To be fair, I think the game did have championship implications in the NFC South.)
When I finally got to Yankee Stadium with my family, walking through Lehigh's reception area while quietly fading into the background, I fully realized that not everyone else shared my
perspective
on the game.
Most Lehigh alums were simply happy to be there - a giant, well-planned, well-executed party set up by the New York Yankees, Lafayette College, Lehigh University, and a small army of people from all three organizations that made it run like clockwork.
I wandered around the reception wondering if most of the people here had attended even one Lehigh home game all season.
Sure, there were some, like Dan Mulholland and a variety of diehard Lehigh football alums, that do indeed go to all the home games and a fair number of the away games, too. (Incidentally, the Kings of Tailgates aren't just diehard tailgaters. They've donated over $100,000 directly to Lehigh football through their fundraising efforts.)
Many of all stripes were snapping team photos and selfies, an impromptu family reunion that so happened to be occurring at Yankee Stadium surrounded my a whole lot of Brown shirts.
And as is tradition at Lehigh football games, many, many or them wandered into Yankee Stadium late - as in after kickoff. The brown shirts didn't fill up the section my family was in until after kickoff, but they did indeed fill up.
As for me, I was able to meet up some - but not all - of my friends that usually return to Lehigh and Lafayette for our annual reunion/homecoming/gathering every year. The fact is we reunite over football, and the Rivalry is our reunion point.
Most years, we reunite at someone's house, enjoying tailgating fare before and after the game, but we didn't do that, thanks to the tailgate restrictions around Yankee Stadium. Instead we elected to get food inside the stadium, which was fine, but did remove a key element of our own personal tailgates that I missed.
(Of course, with my lack of
perspective
, I fully imagined wandering outside or inside the stadium, finding a secret tailgate tucked neatly away from the New York City police and Yankee security, grilling bratwurst and steaks over open flame. The people running the tailgate would graciously see our Lehigh gear and invite us over for $20 steaks and cold Yuenglings, where we lock arms and sing "Hoo! Roo! Roo! Ray! Lehigh" at the top of our lungs. Again, I don't do
perspective
when it comes to this.)
But this party didn't have to be the same as the twenty-four other parties I had grown accustomed to enjoying in the Lehigh Valley.
It was okay to have this one involve Nathan's fries and fried chicken sliders - as long as it also involved a hot beverage, because it was freezing out there. It was great that it was a different sort of party - one with... scale.
Parties thrive when they are big, and with 48,000 or more people converging on Yankee Stadium, this one was the biggest.
My warped
perspective
says that all of them would be rabid football fans - eagerly having consumed my game preview, all of them understanding the rushing balance that would be needed between
QB Nick Shafnisky
and
RB Rich Sodeke
that would be necessary for the win.
But the truth is almost all of the 48,000 people there couldn't have told you whether Rich Sodeke was the starting tailback or Rich Little.
Most only cared about the party, wearing some school colors, staying warm in the VIP lounges, posing for some pictures. They showed up on the big screen in center field, or maybe on the small screens simulcasting the game on CBS Sports Network.
They were there.
That's what was important to them, not that Lehigh was 3-7 or that Lafayette was 4-6. It was important that there was a giant party, and that they were there to witness that, and have the intact ticket to prove it.
From that perspective, the Rivalry game at Yankee Stadium was a massive success.
It was a perfect venue for what both schools wanted to do. It was the proper scale for the game, and offered a primo venue for a huge party. The highlight videos on the field's massive video board were four-hour commericals about Lehigh and Lafayette, about the alums, the fans in the stands, the tweets from regular fans, and some surprises.
It was incredibly well executed, and that's a credit to the Yankees,
Bruce McCutcheon, Joe Sterrett
, and again, a multitude of people that made all this happen.
But a party's not enough for me, because I have no
perspective
.
I've said before I envy the people who can go to a game, root for their team, watch them not only lose, but largely get blown out of the water, and then leave their seats and head for their warm cars with a shrug of their shoulders,
"oh well, better luck next year."
I think, in times like these, it would be nice to be so Buddhist and to be able to let go of the build-up, the emotion, the expectations, the warped
perspective
I so obviously have.
I simply can't do that. In my nightmares I see Scheuerman running left for six yards, running left for five yards, running through the middle for 5 yards, running 75 yards virtually untouched for a back-breaking touchdown.
I see mistakes on the Lehigh side, and it makes me furious, having me kick over imaginary Twitter tables as I sit freezing my butt off in the Yankees' open-air press box, a frigid wind blowing in my face all game.
Wouldn't it be better for my emotional health to adopt a different perspective? Wouldn't I escape some of the deep salt mines buried 600 feet deep inside the earth, where my emotional state goes after particularly bad losses?
Probably.
But then there's the flip side of that - the huge highs when Lehigh steals an overtime win over Lafayette with an interception, or a crushing defeat of Lafayette whose power surge causes a glorious, all-time win in the FCS playoffs over a team they had no business beating.
They exist together, these salt mines and these forays into the clouds.
For most fans, the party is enough, and that's OK. But for some, a select few with a messed up perspective, they have to suffer the lows because they know the highs are coming again,
just around the corner
.
The potential high point came in Lehigh's only scoring play of the evening, the touchdown scamper by
freshman RB Chris Lehigh
that caused a pent-up Lehigh crowd to finally explode with happiness when his touchdown temporarily made it a two-touchdown game.
In a game with few highlights, it was the one play that caused everyone in Brown to momentarily be able to experience the joy of the moment.
20,000 Lehigh fans rose, finally, with something to cheer about. Whether they were there for the party, for the ticket stubs, for the selfies, or were there to watch a football game, they were
there
, united for that one moment, celebrating a big moment - perhaps the only big moment - in the game for Lehigh. 20,000 fans celebrating a play. That doesn't happen very often at the FCS level.
It's also the fuel that keeps the Lehigh fan warm over the winter, and gets them through recruiting season and to spring football.
Most Lehigh fans, I understand, will be asleep when spring football rolls around. There, only the diehards will be, of course, the Bronx partygoers having long since dispersed, working on their spreadsheets, or whatever those people do once football season is over.
But the diehards will begin the investment all over again, with hope. All sign of the SUV tracks of Lafayette
RB Ross Scheuerman
on Lehigh's defense will have disappeared, even though his name will be forever etched into the history of the Rivalry.
For the Lehigh diehards, all that will remain of this game is a snazzy football program and the memory of 20,000 people watching Chris Leigh run, and wondering what he'll do for an encore in 2015.
Maybe even beat Lafayette in Murray Goodman Stadium.
Like I said, I don't do
perspective
when it comes to the Rivalry.