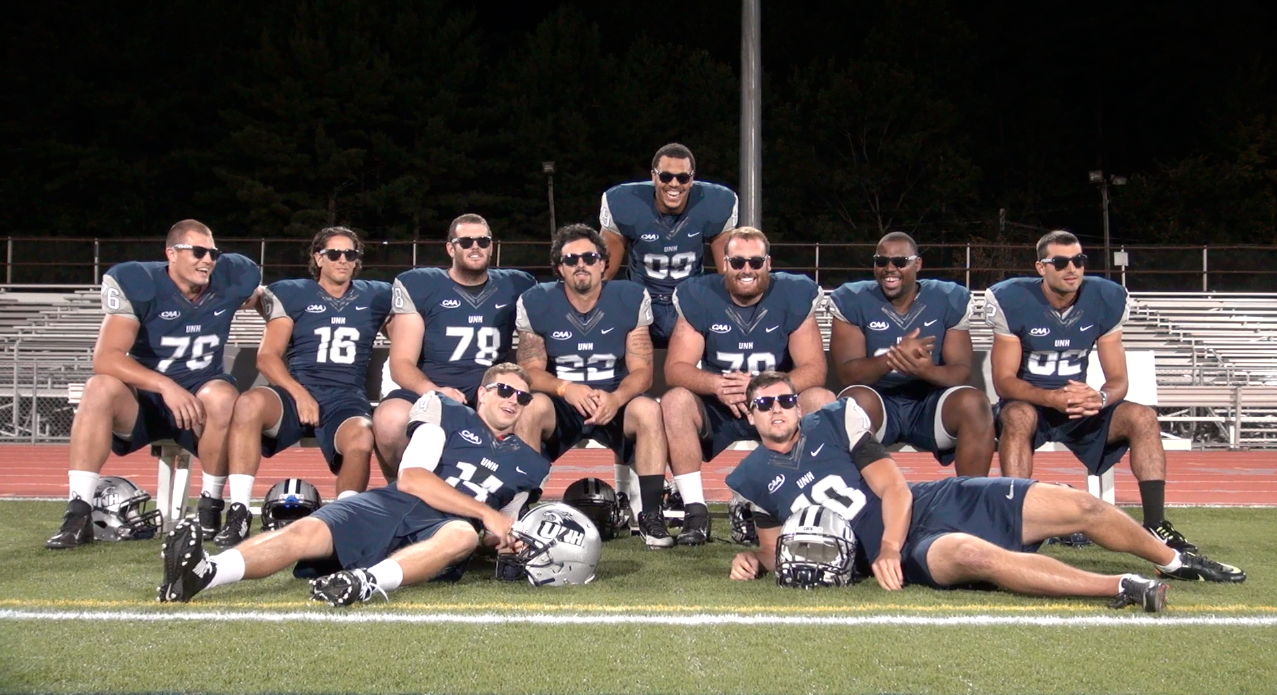 "These next ten games shape what we are, and this next one is absolutely huge," New Hampshire head coach Sean McDonnell said in the CAA teleconference before their home opener against Lehigh this weekend. "We got to win this battle. We got to get ready for this really good Lehigh team."
It's hard enough preparing for a week of football, but hearing that cannot make head coach Andy Coen or any of the players in the Lehigh football program very happy. They're not going to be sneaking up on anybody.
In addition to the revenge factor, Lehigh will be playing at 3:30 PM in the afternoon under the lights at Cowell Stadium. It's the first time lights have made their appearance at Cowell stadium, making it, sorta, the first Wildcat "night game".
And as you can see, UNH players had some "lightness" about it today.
UNH couldn't be more motivated for the game, their home opener, this weekend. Which makes my breakdown all the more important.
Breaking Down New Hampshire
Offense
You don't make it to the playoffs 10 straight years out of the brutally tough CAA by being lucky.
You don't make a huge push in the FCS playoffs only getting taken out by multi-year FCS champions North Dakota State without having a deep, talented team.
The Wildcats have shown up for more than 140 straight weeks in the FCS Top 25 becaue a decade ago, they came up with a pretty gosh-darned good offensive system. And in 2014, the strategy hasn't changed that much.
Coach
Sean McDonnell
's balanced spread-option style offense, who originated from the mind of the NFL's
Chip Kelly
, is indeed a great system, dependent on a mobile, athletic quarterback at the controls and skill players with speed to burn.
Kelly, who was arguably the most valuable assistant coach to a college football program since June Jones, went on, as head coach, to make Oregon a perennial Top 25 team in the FBS before heading to the NFL's Philadelphia Eagles.
The philosophy was that they wanted to run 80 plays offensively, and if they don't get to 80 plays, they've failed.
It's an offensive philosophy that was revolutionary almost 10 years ago, but now finds its way into a multitude of college football teams, including Lehigh's. The idea of getting to 80 plays, no matter what number of trick plays and quick snaps it takes to get you there.
Just like last season, McDonnell's flavor of the offense involves more of a reliance on rushing plays, from both the quarterback and the running backs than you might imagine, though against Toledo that script didn't exactly work out. UNH didn't get to the magic number of 80 offensive plays, only getting to 76. That makes some sense, though, since UNH was operating from a deficit, they passed more than they ran.
You could even be forgiven for mistaking UNH's offense for Lehigh's, with a 3 wideout/1 TE-HBack base set.
UNH QB Sean Goldrich
Last season when Lehigh played UNH,
senior QB Anthony Vailas
got the starting nod for the Wildcats. This season, though, Vailas is the backup, and
junior QB Sean Goldrich
(27-39, 291 yards passing, 3 TDs, 0 INTs) is the starter, and is a key reason why the Wildcats went on their amazing run through the FCS playoffs all the way to Fargo.
If Goldrich comes out, Vailas is a more than able replacement, and it seems likely that Vailas will come in for one or more series at some point in the game, if nothing else to Goldrich a breather. Both are built the same: mobile, gritty QBs whom you have to respect running the ball.
When Lehigh faced
senior RB Nico Steriti
last season, he was coming into his own as a top CAA player. But he continued to get better as the season went along, and now is a Walter Payton award candidate out of the Wildcat backfield. He was seriously stuffed last week by Toledo's tough front four last week, but still managed a touchdown receiving. The 5'11, 229 lb senior is a threat both running and receiving.
Senior RB Jimmy Owens
spells him, and is built very similar to Steriti. He hasn't caught the ball as much as Steriti, but knowing McDonnell, you can't discount the idea that he could be able to do so. Against Lafayette in the first round of the FCS playoffs last year, he had 9 rushed for 69 yards.
UNH's passing game will find a multitude of passing targets, making it very difficult to focus on one receiving threat, though if they had one overriding concern it would be senior
WR R.J. Harris,
who will play for the third time against Lehigh in his career.
Harris was UNH's go-to guy against Toledo, notching 9 catches for 149 yards and 1 TD, but what could be more concerning is the emergence of an equal receiving threat on the other side in 5'8 junior
WR Jared Allison
(7 catches, 55 yards).
Concentrating on that duo, too, is fraught with peril, since
senior WR Jimmy Giansante
and
senior TE Harold Spears
also have big-play ability in terms of the wideouts. Shut one down, someone else gets open. New Hampshire makes it a very tough choice for defensive coordiators.
Making it extra-scary is the fact that all of these players suited up against Lehigh last year in Bethlehem, and all will have revenge on their minds. Only two starters from last year's skill positions graduated.
In fact, it's awfully hard to see a chink in the Wildcat offense. In addition to all the speed and talent, they also boast a strong "O" line as well, with
senior C Mike Coccia
on a very solid offensive line.
UNH is loaded with Lehigh Valley-era talent, including Coccia, who attended nearby Freedom in Bethlehem, and Spears, who went to Perkasie.
Where New Hampshire suffered last week was by penalties and pass protection. The "O" line gave up 4 sacks, and the team gave up 7 penalties. Furthermore, when Lehigh beat UNH last year, they won the turnover battle, at +2.
Defense
The Wildcats still play a 4-2-5 defense, a popular formation known for bringing a simple, multiple-look defense to play to disrupt a multitude of spread offenses, and the fifth defensive back (or "weak safety") acts as an effective tackler, blitzer, or general "speed guy" to hunt down speedy backs and receivers.
Like everything else about New Hampshire, it's all about the closing speed, and the Wildcats have some great athletes on the defense, unsurprisingly ones that feature that speed.
It's here where Lehigh can look at the tape and be encouraged, as the Wildcats gave up 666 yards of total offense to the Rockets opening weekend, and over 300 yards both rushing nd passing.
Senior DE Cody Muller
is a 6'4, 255 pound speed rusher, headlining a defensive front with 6'1, 287 lb senior
DT Matt Kaplan
in the middle. It's fair to expect that they will not do as badly as they did last week versus Toledo.
LB Shane McNeely
The middle of the defense is headlined by former Central Catholic star
senior LB Shane McNeely
, who is a solid tackler and has a nasty habit of leaping to disript passing lanes. (His brother, also from Central Catholic, is the starting guard,
sophomore OL Tad McNeely
.)
In somewhat of a break, UNH's leading tackler last season,
LB Akil Anderson
will likely not be playing against Lehigh this weekend as he's recovering from a high ankle sprain suffered against Toledo. Replacing him on the two-deep is
sophmore LB DeVaughn Chollette
, who notched 3 tackles in relief of Anderson against Toledo.
Junior WS/S Hayden Knutson
is scheduled to come back for UNH's secondary, joining
senior SS Tre Williams
, and
senior FS Nick Cefalo
as names to watch in the hybrid defense on blitzes and in pass coverage.
Senior CB Stephen Thames
and
sophomore CB Casey DeAndrade
cover the corners.
Special Teams
As you would expect from speed merchants, the kick return group of s
ophmore CB Casey DiAndreade
and
junior WR Jared Allison
are speedy and dangerous, though they didn't really get much of a chance to highlight themselves vs Toledo.
One guy who did get a chance to showcase against Toledo was
senior P Brad Parsky
has a fantastic leg, booting 6 punts for a 39.7 average. It was kind of an off day for him, perhaps due to the pressure Toledo was able to exert.
Junior PK Christian Breda
saw his first game action, and scored his first two extra points of the year. He had one touchback on kickoffs, so there may be an opportunity there for some big kickoff returns.
LFN's Keys to the Game
1. Big Play prevention.
More than anything last week against James Madison, Lehigh's biggest issue to clean up, in this reporter's opinion, was they allowed too many big plays on defense. It will be critical for the defense to keep the play in front of them and keep them from busting loose for big gains. Don't look at the yardage; look at the scoreboard. They'll get their yards, but if they don't always result in points, Lehigh will be in position to win.
2. Special Teams Field Position.
One underreported aspect of Lehigh's game last week were some nice returns by
senior WR Josh Parris
, one of which set up a key touchdown. This week, the return game might be able to play a big part of keeping Lehigh into this game. Parris,
sophomore RB Brandon Yosha
and
sophomore CB Brandon Leaks
, with some big returns, could play a big part.
3. Throw Out the Numbers And Focus On Two
. Most of FCS Nation are looking at a few numbers to judge Lehigh and judge this game. They see the 7 next to New Hampshire on the national rankings. They see a positive, non-zero number of Payton Award candidates. They see the number of Wildcat wins last year. They also see zeros in front of Lehigh: zero wins in 2014, zero votes in the national polls. This game will not be determined by these numbers - they'll be determined by two numbers on the scoreboard, "Home" and "Visitors". If Lehigh gets caught up in numbers, they will lose. If they concentrate on the only two numbers that matter, they have a great chance of winning.
Fearless Prediction
It's kind of funny to think that so many in FCS Nation used to complain about Lehigh's "easy" schedule in years past. Where are they now that Lehigh has scheduled a former I-AA national champion and a perennial FCS playoff team in back-to-back weeks to start the season?
Yet here we are, with an even sterner test than last weekend.
To be the best, to see what the FCS playoffs are all about, you need to compete against these teams, no matter how it's done or when it's done. That's what Lehigh is doing this weekend, though they're risking an 0-2 record to start the season.
All indications are that this could be an offensive showcase, with lightning-quick play. It should be a game of crisp offensive execution. of which Lehigh proved they were capable last week. It sure seems like points will be scored. The question is, which team's defense will break first?
Lehigh's defense, I believe, should have a big chip on their shoulders this weekend after last week's game. They will play better than last week, though it might not show itself on the stat sheet. The critical thing will be keeping the game close until the end, which is exactly what happened in the last two games down in Murray Goodman stadium. I think they will, and in so doing, surprise an awful lot of the Nation.
Lehigh 47, New Hampshire 41, OT