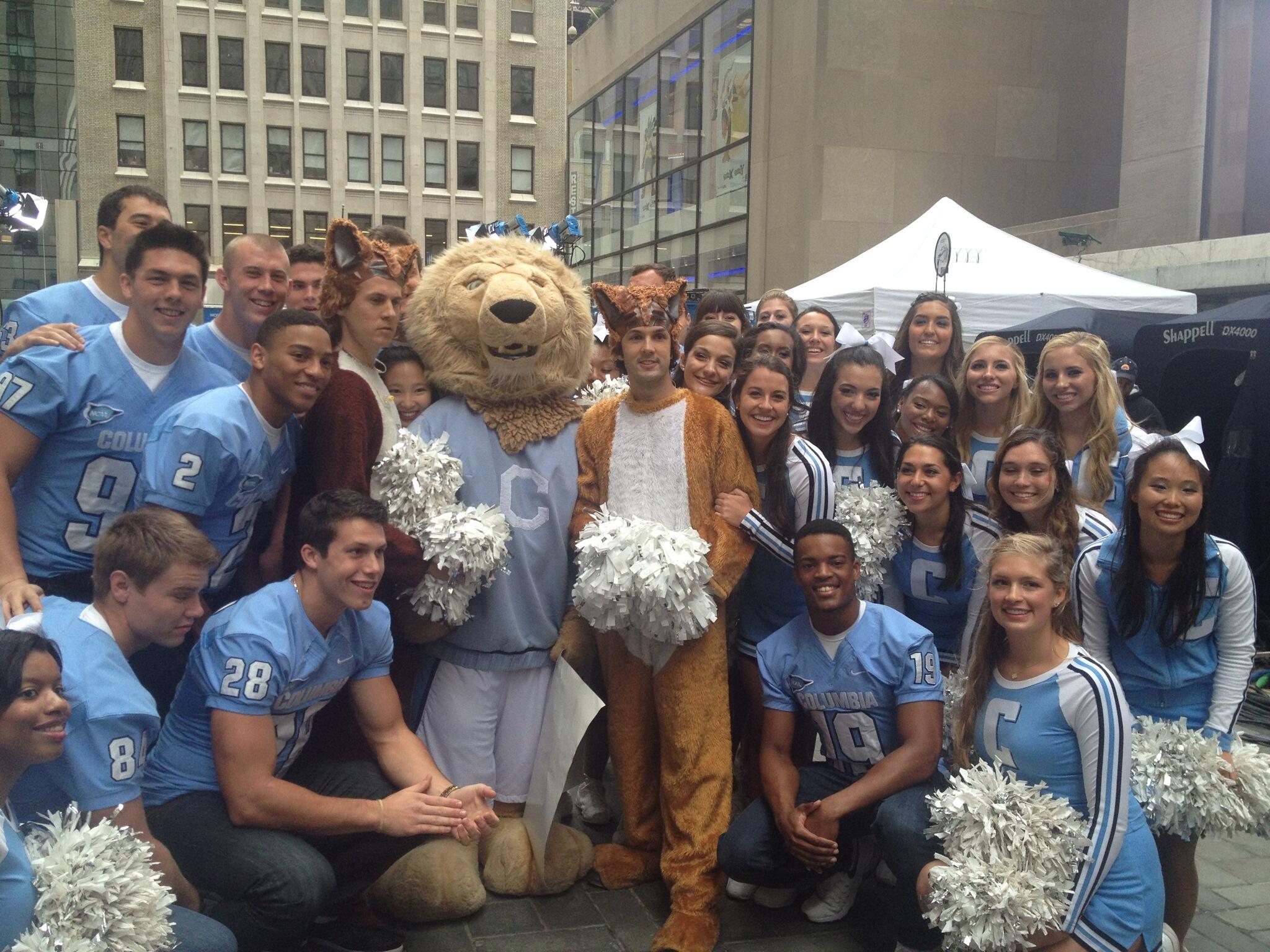 After a week of silence throughout both the Lehigh and Columbia camps, finally, on a Friday, a good old-fashioned media blitz comes through to make my Game Breakdown easier.
Of course there's my first choice of news,
Jake Novak
's excellent
Roar Lions blog
, which pointed me to a
piece from the student-run
Columbia Spectator
that gave some late, critical information on this weekend's game.
And then there was the
Today
Show on NBC nationwide, where the Columbia football team had a segment talking a little bit about the football team and
the game this weekend as well
, even if
Al Roker
seemed a lot more engaged regarding dropping a
Ylvis
reference for the song "
What Does the Fox Say
?" with the Baby Blue cheerleaders instead of analyzing the Lions' chances this weekend.
Another thing Al missed was that the weather report for tomorrow
has turned quite a bit better
, with the game turning to a partly-cloudy, 10% chance of rain sort of afternoon for kickoff. There's a decent chance, even, at sun to go with unseasonably high 70 degree temperatures.
Let's get right to the breakdown and fearless prediction.
Breaking Down Columbia
Offense
Columbia runs, in my estimation, a spread-style offense that is unusual in that they only run with a single running back. Called an "Ace" formation, to me it's a modified pro style offense with some elements of the spread.
Offensive coordinator
Jamie Elizondo
(who has coached some amazing wideouts like Hofstra
WR Marques Colston
and Syracuse
WR Mike Williams
, among others) is the mastermind of this base offensive set with three wideouts in the offense, and tight end, and a single back. It'w worthy of mention that there's not a single fullback on the Lion roster.
In its second year of implementation, the Lions, theoretically, should really start to be settling in regarding executing the offensive gameplan. In practice, though, head coach
Pete Mangurian
has had to navigate a lot of uncertainty on the Columbia offense, some not his fault, and some self-inflicted.
All summer the talk was about
junior QB Brett Nottingham
, the transfer from Stanford that was supposed to compete for the starting job, but not really - it was basically understood that the job was his, as long as he was healthy, and indeed Nottingham started in the first game against Fordham.
Then he got injured in the second half of that game. Done for the year.
Suddenly
sophomore QB Trevor McDonagh
, the promising freshman who ended up starting the last two games of 2012, was thrust back into the starting position, and looking likely to be the starter the rest of the way.
"Gained some valuable experience at the end of the season," Mangurian's
notes show on McDonagh's bio page on the Columbia website
. "Must improve accuracy and decision-making. Played because he showed more consistency and working knowledge of the system. Trevor will gain confidence and play to his potential as he masters the system and uses it to his advantage."
Not exactly
Knute Rockne
-esque stuff.
Furthermore, when McDonagh struggled against Princeton, he was yanked in favor of
freshman QB Kelly Hilinski
, who came in and showed some promise, connecting on a 70 yard touchdown pass for Columbia's only score.
Thus a quarterback controversy was born the week before the No. 14 team in the nation was to head up to Columbia.
On Tuesday, Columbia's
game notes
listed Hilinski as the No. 1 QB on the depth chart.
But then, on Thursday, Mangurian said in the student newspaper that McDonagh would
really be the starter
.
"I'm not big on listing them side by side—I think that's kind of a cop-out," Mangurian said in a phone interview with Spectator on Thursday. "We've had tremendous competition all week in practice, and that's been good. But I think Trevor's earned the right to be the first guy to walk out on the field, the guy to have the first chance to run the football team. And we'll go from there."
A cop-out it may be to list two QBs on the depth chart, but be that as it may, the fact that Mangurian didn't make it clear that they were both going to spend time under center, at a bare minimum, caused confusion for Saturday - confusion that the Lions offense hardly needs.
It can be OK to split time at QB in an offensive system - especially with young quarterbacks - and it also can be OK to have one guy the starter, along with the understanding that another kid might come in for some series. Heck, Princeton has done so all season, and been fairly effective offensively doing so, too.
What can be said is that McDonagh is 6'2 and more of a running quarterback, though his -59 yards rushing isn't a good indicator of his abilities in that area. Hilinski is more of a pocket passer, but one with great upside, said Jake Novak from Roar Lions.
"I liked what I saw from him on the field against Princeton," he said. "The game was hopelessly lost when he came in, so it wasn't anything he did on the scoreboard that impressed me. What I liked was the way he directed traffic before the snap, the zip on most of his throws, his decisions to run 2-3 times when it was necessary, and the fact that he literally towers over the line of scrimmage at a legitimate, uninflated 6"6."
Accuracy has been a problem for both thus far, though, with a completion percentage under 50%, and they'll have to perform a lot better than that in order to have a shot in this game.
Of course, Lehigh does rank 110th out of 123 FCS teams in terms of passing yards allowed (they've allowed on average 277 yards/game), so Elizondo probably thinks that the Mountain Hawk secondary is a golden opportunity to get Columbia's offense on track in the passing game.
That's important, too, because Columbia actually has some tough, talented receivers that can make something happen with the ball when it gets to them.
Start with the star of the Columbia offense, senior RB Marcorous Garrett, who has been a bright spot for the Lions with 271 yards and 2 TDs running the football. He's speedy and can also make things happen in the passing game, too, with 5 receptions for 21 yards. If given some space, he clearly has the speed and ability to break off big plays. Freshman RB Allan Watson has spelled him in the rare times he's taking a breather.
Columbia also has some strong receivers, too, starting with 6'3 junior WR Connor Nelligan (142 yards) and 6'4 junior WR Ryan Flannery (108 yards, 1 TD). Speedy sophomore WR Scooter Hollis (103 yards, 1 TD) and senior TE Hamilton Garner (47 yards) round out an experienced unit that is actually very talented and shouldn't be overlooked.
The trouble is Columbia is trying to do all of this with a very inexperienced, and surprisingly undersized, offensive line.
I'm often leery at simply looking at the sizes and weights on the "O" line to pass judgement on the efficacy of that unit, but when senior OL Jimmy Yukevich is the largest (and most experienced) body on the line at 6'7 and 274 lbs, it does make one's eyebrows raise.
It is not a prerequisite for all offensive linemen to be over 300 lbs to be effective, but if they're not footwork and efficiency in the blocking scheme has to be perfect, and there's plenty of indications for Lions fans that their "O" line is in rough shape.
In three games, Columbia has given up 15 sacks, or an eye-popping 5 per game. They've only amassed 142 yards rushing combined in 3 games, made even more amazing when Garrett has 271 yards and the rest of the team has averaged -131 yards. That's right: -131 yards.
Defense
Columbia runs a base 4-3 that has, in the past, been able to rush the quarterback effectively and be a strong unit - the type of unit that could turn things around at Columbia with some help from the offense. Unfortunately for Lions fans, though, injuries have also decimated their defensive line, too.
Two starters,
senior DE Seji Adebayo
and
senior DT Wells Childress
, are done for the season with injuries, which makes
senior DE Nick Melka
(19 tackles, 1 1/2 sacks) as the "old man" on the defensive line.
The line is mostly light and speedy, but they also have some good young players there, too, notably
junior DE Chad Washington
(20 tackles) and
sophomore DT Niko Padilla
(15 tackles, 5 1/2 tackles for loss.
In the middle stands Columbia's best linebacker,
senior LB Zach Olinger,
who returned an interception last season for one of Columbia's two scores against Lehigh last season. Unsurprisingly, he leads the Lions in tackles with 31, and he averages more than 10 per game.
Junior LB Vinny Pugilese
(26 tackles) flanks him on the right, and
senior LB Zach East
(19 tackles, 2 fumble recoveries) on his left.
In three games, Columbia has yet to notch an interception, despite the presence of obvious athletes like
senior SS Marquel Carter
(15 tackles) and
sophomore CB Travis Reim
(23 tackles, 2 pass break-ups).
Special Teams
It's awfully hard to give
senior PK Luke Eddy
any sort of grade since he's 4/4 on extra points and missed one very long FG attempt of 49 yards. It seems fair to say that the staff has a lot of confidence in him to kick a long FG if the need arose.
Senior P Paul Delaney
averages 41.6 yards per punt and he's also booted 4 punts greater than 50 yards, meaning he, too, could be a weapon in a field-position game.
One of the odd things about Columbia's game notes is that they don't list return specialists, though with a bit of digging you can discover that
sophomore CB Travis Reim
(12 yards) has returned punts and he and
freshman RB Alan Watson
(193 yards) return kickoffs.
LFN's Keys to the Game
1. Line Domination
. Winning the battle of the trench will go a very long way towards determining who wins this game, and it's a golden opportunity for Lehigh's defensive front seven, in particular, to display nationally that they are better than their numbers currently show. If
senior LB Nigel Muhammad
has a multi-sack game, and I'm hearing
sophomore LB Noah Robb
's name a lot, that will be an indication that Lehigh's having the type of day defensively that will enthuse the fans down the line.
2. Play Lehigh Football
. Many FCS football programs toil in obscurity, and some never get on national television. Lehigh's going to be going national for the third time this season, a rare privilege that many athletes would give a lot to have. Saturday this team will have a third chance to show a national TV audience what Lehigh football is all about. Your show is what you make of it; make it one you'll be proud of.
3. Don't Let the Cardiologists Win.
All season long, fans have been looking for a game where Lehigh jumps out to a big lead, and holds onto it. Lehigh Valley cardiologists, though, are rooting for another game where Lehigh keeps it close for a half, falls behind at some point, and finds a way to win (or lose) in the late stages of the game. With a quick start, the cardiologists don't win, and Lehigh will be in a better position to zip out to a victory. It will also demonstrate a lethalness in this Lehigh that has been lacking this season thus far.
Fearless Prediction
You don't have to be a rocket scientist to know that losing sucks.
But losing to Fordham, in the way they lost, was a deeply humbling experience for this Lehigh team.
The humbling nature of that 52-34 defeat, where the Mountain Hawk defense gave up 630 yards of offense to the Rams, has taken some of the luster off of Lehigh's 4-0 start, where the Brown and White seemed invincible to any deficit, self-inflicted or otherwise.
This Lehigh team can take that wound as confidence blow, or a call to action. Just like a wounded animal, they can lash out, or retreat.
Fortunately for Lehigh, the loss to Fordham doesn't have to mean the end of the season. If they win the rest of their games, they'll win the Patriot League autobid and be able to order the Patriot League Champion rings, no matter how Fordham does the rest of the way.
And Columbia comes at the perfect time for the Mountain Hawks, too. Unlike Lehigh, they're a young team trying to learn how to win. At best they're unsettled at the most important position on the field, quarterback.
What might have looked like a vacation in Manhattan in the preseason has become a "show-me" game for the Lehigh defense. They have an opportunity that few FCS teams have: to go on national television and has a "do-over" in representing themselves and the Lehigh football program.
That's not good news for the Lions.
Lehigh 42, Columbia 6